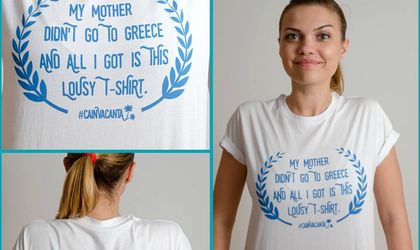 Simona Suman, copywriter at McCann Erickson, and Dragos Raicu, copywriter at FCB, are two young creatives selected to represent Romania at ADC*Europe as part of the junior jury. But before they can go, they need everybody's help to fund the trip. This is the reason for which they decided to put together an online auction, where every advertising fan has the chance to buy a memorable object from a famous campaign or that reminds us of it. The objects and trophies are donated by important Romanian advertising figures and the auction will end Tuesday, Oct 6 at 0:00. Simona and Dragos exclusively told BR more about the idea and its final goal.
How did you decide to create the Facebook page? Do you believe that Romanian advertising fans are into crowdfunding?
It all started when we were selected to represent Romania at the Art Directors Club of Europe Creativity Festival, as part of the junior jury. But to get there, we needed help to fund our trip. That's why we put together this auction.
We don't know if they're into crowdfunding, but we know they love great ads and we're betting they're willing to spend some cash to own a piece of them. Even more so if it's for a good cause.
How did the proposal of the two of you being in the ADC Europe Jury come? Where you expecting it?
It was a big surprise! The Creative Directors affiliated with ADC*Ro were asked to nominate young creatives they work with to represent Romania in the junior jury. We submitted our CV's and portfolios and were selected based on our previous work. So we have to extend a big thank you to Ema Prisca and everyone at ADC*Ro for the huge opportunity!
Tells us more about the event this year and what will your participation mean?
The second edition of ADC*E Awards brings together the best of European award-winning works under one competition. We have a chance to outshine teams from other countries with our crowdfunding campaign and offer a convincing sample of Romanian creativity.
What will taking part mean to you and your careers?
It's the first time we get to be part of the judging panel, for a change. After years of submitting work and waiting for results, switching sides is a welcomed change that is bound to give us a fresh perspective.
The coolest part is the chance to join Europe's top creatives in debating and judging the best works from so many countries. We're sure there's a lot to learn and we'll be back more inspired and more motivated than ever.
Who is donating the items? Is the list still open for advertising people to give objects?
Top Creative Directors across the biggest agencies all pitched in. We've received donations from McCann, FCB, Leo Burnett, GMP Advertising, Publicis, Rusu+Bortun Brand Growers, Friends, Gavrila & Asociatii, 23 Communication Ideas and others.
We're still accepting donations until Friday. So everyone willing to give, please send us a message on the Get Your Hands On Facebook page.
How did they react when you asked them to pitch in?
The initial reaction was very encouraging! They must've liked the idea, since they quickly contributed with awesome donations.
In advertising we have to always look to the future. But there's also a bit of nostalgia in looking back at the work that made it big in the past and opened up new possibilities, so we think that worked in our favor and got us very cool donations.
What is the object that got so far the most attention and why do you think it happened this way?
The auction went live just yesterday, but there are a few favorites already: the last American Rom chocolate bar, from the campaign that brought Romania's first Grand Prix at Cannes Lions. Also, the original illustration for what was to become a D&AD awarded print ad for Scrabble – these seem to be getting the most attention for now. But there's still a week to go and a lot more cool items to get your hands on, so we're expecting the bid wars to get fierce over the next days.
What is your financial target with the campaign?
Around EUR 1,000 should be enough to cover our expenses, but impressing the ADC*Europe judges with a great crowdfunding campaign is our biggest goal. And that one is priceless.
Romanita Oprea