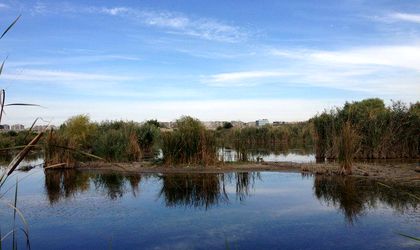 The Ministry of the Environment and Climate Change (MMSC) will be declaring the Vacaresti Delta of Bucharest a protected area, following the Romanian Academy having issued a positive opinion on the matter, chief of the MMSC Biodiversity Directorate Florian Udrea told in a press conference that was held on Saturday, September 21, by NGOs Let's do it, Romania! and Save the Danube and Delta.
On the day mentioned, the two NGOs have brought nearly 300 volunteers that cleaned the Vacaresti area, with the support of Bucharest District 4 Mayoralty, the MMSC, inmates of the Jilava Penitentiary, and gendarmes.
The Bucharest Delta of Lake Vacaresti, also knows as the Delta between blocks of flats, is a natural area in southern Bucharest. Lake Vacaresti was designed by the communist administration as part of a more complex redesign process of the Dambovita River to be part of a water defense system of the city. Works started in 1986 but halted after 1989. In this area, stretching over nearly 200 hectares of vegetation and swamps fed by underground water sources, a stable ecosystem has developed consisting of fish, wild ducks, swans, lizards and gulls.
More pictures of Vacaresti Lake can be seen here. 
Oana Vasiliu