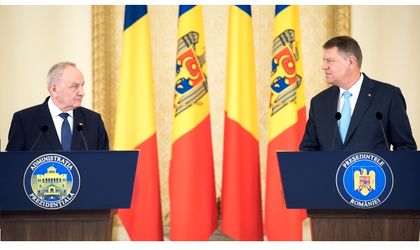 President Klaus Iohannis announced on Wednesday that Romania will grant the Republic of Moldova a humanitarian aid until the neighboring country will be able to reach the requirements for the grant of a reimbursable financial aid.
"The Republic of Moldova has a new Government, a Prime Minister (…) who seem determined to put into practice what they promised and we expect the very concrete first steps on the path of reform, after which, of course, we shall be able to grant the first tranche [of the reimbursable loan]," Klaus Iohannis stated during a joint press conference with his Moldovan counterpart Nicolae Timofti.
The requirements concern the country's banking governance, justice independence and also the approval of a roadmap with the International Monetary Fund.
"The Moldovan Parliament I believe has the same interest, and they will certainly put in the effort, but we don't know if this process lasts one week, or two or three, or six, so we decided to grant Moldova a humanitarian, nonrefundable aid, to support the people there. In the end, the one who need urgent help are the people in Moldova with complicated situations," the president added.
The head of state brought to mind that last year he sent back the agreement on the grant of a EUR 150 million reimbursable loan to the Republic of Moldova because of the uncertain situation the country was facing at that time.
"The political crisis in Chisinau and our institutional problems did not affect in any way the political and economic dialogue between the two sides of the Prut. On the contrary, I feel that the difficulties we are experiencing in the Republic of Moldova brought us closer together, and the prospects for collaboration are becoming more obvious, unavoidable, I would say. This is the natural evolution of things, in my opinion. The constant and valuable support that Romania offers us in many areas is undeniable," Nicolae Timofti said.
Both presidents made references to the Iasi-Ungheni pipeline as one of the necessary and important projects to offer Moldova alternative energy sources.
"I told President Iohannis that I want Romania to participate further, as we established before, in the development of our energy sector, which would allow us to get out of the vulnerability zone. There are political risks, geopolitical and economic, which we have addressed today in our discussion, and avoiding them would bring the Republic of Moldova into a European stability," the Moldovan president concluded.
Natalia Martian