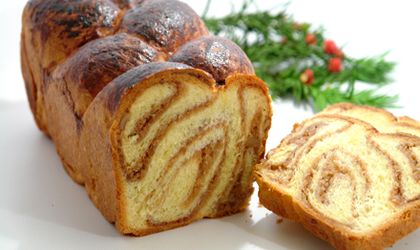 Romanian bakery producers will export some 2 million 'cozonaci' (cozonac is a traditional Romanian holiday sweet bread) this Christmas, worth an estimated EUR 8 million, Aurel Popescu, president of Rompan, the Romanian Employers' League of the Milling, Bakery and Flour-Based Products Industry (ROMPAN) told Mediafax newswire.
"Romanian cozonac is perceived abroad the same as Dacia. It's cheap and good", said Popescu.
The average export price of a cozonac is EUR 4.  The product is exported mainly in countries where there are large communities of Romanian expats such as Spain and Italy but also the USA, Germany, Belgium and Canada.
In Romania some 8 million cozonaci will be sold this Christmas. Annual sales reach an estimated 24 million cozonaci with peak sales reported during Christmas and Easter.
Simona Bazavan
Photo source: www.sapunnatural.ro