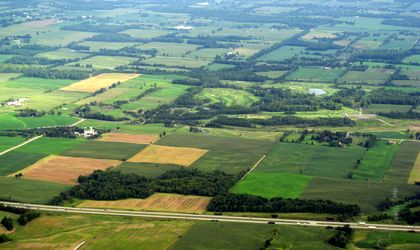 Some 400,000 hectares of farmland are certified for organic farming in Romania at present, but this could double over the next seven years, said PM Victor Ponta this Wednesday during the INDAGRA agribusiness trade fair in Bucharest.
"There are 400,000 hectares of certified organic farmland, but we can, and we will try over the next 7 years, to double this if not grow it even more," said Ponta. The growth will be fueled by the fact that Romania is building a trusted brand on international markets when it comes to organic products, said the PM.
The Romanian organic market has grown significantly over the past years, both in terms of organic farming and the consumption of organic products. After Romanian farmers started receiving financial support to convert from conventional to organic farming in 2010, the number of farmers and processors has gone up significantly, from about 3,100 that year, to 10,000 in 2011 and some 26,000 last year, according to Bio Romania data.
Romania is a net exporter of organic products, albeit mostly raw materials such as cereals and fruit. Last year's exports of organic products are estimated to be around EUR 200 million, according to data from the Export Development Direction part of the Ministry of the Economy, Trade and the Business Environment. Exports have grown over the last years by about 10 percent (annual growth rate) and a similar evolution is expected this year.
There are no official statistics available regarding consumption, but this is estimated to have exceeded EUR 100 million in 2013, Marian Cioceanu, president of the Bio Romania Association, which is dedicated to organic farming, told BR this September.
Simona Bazavan