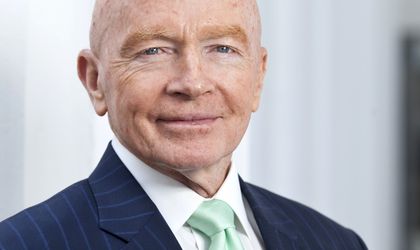 "Romania has an outstanding growth story among the countries in the CEE region and the European Union, with the highest growth rate in the EU in the first quarter of 2015 and the second-highest in the second quarter. This exceptional growth story should be continuously promoted to foreign investors and one of the best ways to do that would be to have more IPOs of both state-owned companies and privately-held companies," Mark Mobius, executive chairman of Templeton Emerging Markets Group told BR.
A developed capital market will always be attractive to investors, especially when strong and appealing companies enter the public view, drawing more attention to the country, he explained.
Asked about measures that Romania could take in order to become a hub for investors, Mark Mobius said that Romania's robust economic growth and macroeconomic balances are features that make our country attractive, and one of the main strategies would be to keep these balances and continue the structural reforms.
"At the same time, there is a need for long term, coherent strategies, especially in sectors like energy. The stability of the regulatory environment, the coherence between the fiscal and monetary policy should also be major points on the agenda of the policymakers, as investments are usually made based on premises and promises that should be maintained and delivered," the Franklin Templeton representative said.
Not least, a strong measure to help attract investments on the long run would be a more aggressive privatization and listing of state-owned enterprises, he concluded.
Mark Mobius bio:
Mark Mobius, Ph.D., executive chairman of Templeton Emerging Markets Group, currently directs analysts based in Templeton's 18 emerging markets offices and manages the emerging markets portfolios.
Dr. Mobius has spent more than 40 years working in emerging markets all over the world. He joined Franklin Templeton Investments in 1987 as president of the Templeton Emerging Markets Fund, Inc.
Dr. Mobius received numerous industry awards, including being named one of Bloomberg Markets Magazine's "50 Most Influential People" in 2011, "Emerging Markets Equity Manager of the Year 2001" by International Money Marketing, "Ten Top Money Managers of the 20th Century" in a 1999 Carson Group survey.
He has written several books, such as "Trading with China," "The Investor's Guide to Emerging Markets," "Mobius on Emerging Markets," "Passport to Profits," "Equities—An Introduction to the Core Concepts," "Mutual Funds—An Introduction to the Core Concepts," "The Little Book of Emerging Markets," and "Mark Mobius: An Illustrated Biography."
Dr. Mobius earned Bachelors and Masters degrees from Boston University, and a Ph.D. in economics and political science from the Massachusetts Institute of Technology.
Mark Mobius will be a speaker in the first day of the Foreign Investors Summit organized by Business Review, within the panel discussions concerning Romania's competitiveness. For more information about the event and speakers, please visit the dedicated page.