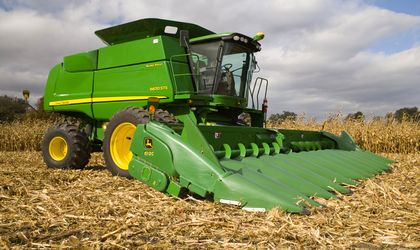 The Romanian authorities have sent to Brussels the official draft of the National Program for Rural Development (NPRD), announced representatives of the Ministry of Agriculture and Rural Development (MADR). The program will regulate how local farmers can gain access to EU financing for investment projects for the period 2014-2020. The total funding amounts to EUR 9.85 billion and will be available through 15 measures.
[restrict]
The draft was submitted last week. Romania began informal negotiations over the NPRD with the European Commission (EC) in March, when it sent to Brussels a first draft with 14 measures. "Following the observations we received, the MADR started a new consultation process with all the organizations from the field, which resulted in the final document that has now been submitted," said ministry representatives.
"We have tried to use the money we have been allocated, which is not enough for all that needs to be done, as efficiently as possible. Nevertheless, what we have been allocated will be prioritized and will ensure a decisive step forward for the modernization of the rural economy," said Daniel Constantin, the Romanian minister of agriculture and rural development.
The new NPRD will undergo a new negotiation process, but the minister said he was "confident that the program will not suffer major changes". Although no final agreement has been reached, the MADR has begun to launch calls for projects under the new NPRD.
Romania's NPRD for 2014-2020 will feature 15 measures, according to its latest form, down from the 24 in the NPRD for 2007-2013, which should allow a better focus on the needs of local farmers, said authorities. Special focus will be given to investments in production for both small and large farms, with a dedicated program for investments in orchards, the integration of production chains and incentives for young Romanians looking to set up a farming business in rural areas, according to previous statements by Constantin. All the documents that the MADR sent to Brussels last week will be published on the ministry's website.
The NPRD was drafted within the context of a reformed Common Agricultural Policy (CAP) which takes into consideration the specific structural situation of Romania's agriculture and allows each EU country to determine the way EU funds are spend, said Dacian Ciolos, EU commissioner for agriculture and rural development, during a visit to Bucharest in March. In order for Romania to benefit from the advantages of the reformed CAP, local authorities have to take strategic decisions regarding Romania's agriculture for the next "four, five years," urged the commissioner at that time.
Simona Bazavan
[/restrict]