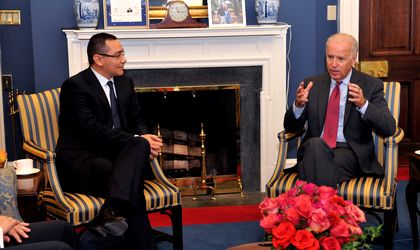 PM Victor Ponta pledged stability and predictability to top representatives of large American corporations during a three-day visit to the US. Ponta, who is the first Romanian PM to visit the US in ten years, underlined that the two countries need to further enhance their economic relations under their strategic partnership.
"I don't know if I will return from America with jobs," said the PM, when asked if any company had announced investment plans following the meeting. Ponta met with representatives of various companies active in energy, IT, industry, agriculture and telecom, where the government plans to attract additional US investments. He mentioned IT giant IBM and oil major Exxon among the companies that had put forward employment plans in Romania for next year.
"Companies seek stability in regulations to give them a predictable framework to be able to develop effective business plans and to reasonably anticipate how the regulatory environment will affect their bottom line," representatives of the US Embassy in Bucharest's public affairs office told BR. Commercial and economic relationships can be enhanced by revisions to the investment climate to increase transparency, predictability, and stability, they added.
The PM was joined during talks with political and business representatives by cabinet ministers in charge of key portfolios such as energy and the environment.
Romania aims to replicate US shale miracle
Energy investments dominated the discussion, against the backdrop of an ongoing debate in Romania regarding shale gas and its potential contribution to the country's energy independence.
Two weeks ago, oil major Chevron suspended operations at one of its survey sites in eastern Romania, following protests. Several hundred people in Pungesti, a town in rural Vaslui County, blocked the access of equipment and staff to a site where Chevron plans to drill its exploration well. The demonstrations later moved to Bucharest, where several thousand people took to the streets, calling for a ban on hydraulic fracturing (fracking), the process of pumping water, sand and a mix of chemicals at high pressure into the ground to crack shale rocks. Critics claim this process runs the risk of polluting ground water and producing earthquakes.
Meanwhile, the company started searching for shale gas in a concession in the Dobrogea region.
America's experience with shale gas was on the agenda during a meeting that PM Ponta had with US vice-president Joe Biden.
According to the PM, the US shale gas industry has created a million jobs and led to a dramatic drop in prices. At present, the price of US gas is one third of the price in Europe and one fifth of the figure in Asia. Although shale has revitalized American industry, commentators say it is too early to gauge the potential effects of shale gas on the local economy.
Sounding a note of caution, Biden warned Romanian officials to be careful of small companies with a weak financial standing that ignore environmental protection measures to make a quick buck.
The two leaders also agreed on the importance of boosting trade and investments between their two countries. Biden underscored that a strong rule of law is crucial for "nourishing a healthy business climate" in Romania.
The PM also met with US secretaries for trade and energy and with congressman Michael Turner, co-president of the Romanian Congressional Caucus. Romania's acceptance into the Visa Waiver program remains in limbo due to deadlock in Congress over the migration law. Ponta said he was able to secure a new USD 1 billion credit line from the World Bank (WB) at a lower interest rate, following his meeting with Jim Yong Kim, WB president.
Marching on
Military cooperation remains a key aspect of the strategic partnership between the two countries that was sealed in 2011, during the visit of President Traian Basescu to the US.
Building works have started on the Deveselu US missile defense shield system in southern Romania. The first phase of the shield is scheduled to come online in 2015 and should enhance NATO's defense capabilities. At the same time, Romania has agreed to purchase twelve old F-16s – the legendary fighter produced by US engineering group Lockheed Martin – from Portugal. The Ministry of Defense will pay EUR 600 million for the F-16s, designed to replace Romania's aging fleet of MIGs.
Ovidiu Posirca