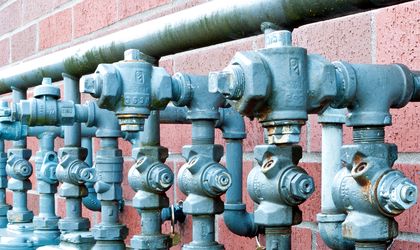 With ongoing explorations of offshore blocks and extensive estimated shale gas reserves, Romania has the chance of covering its energy consumption in the years to come, but experts warn that tapping these resources requires massive investments and a stable legal and fiscal environment.
By Ovidiu Posirca
Romania is currently not energy independent, importing between 20 and 30 percent of its natural gas and more than 50 percent of the oil that it consumes, said Vasile Iuga, country managing partner at the professional services firm PwC Romania.
"Romania's goal should not be 100 percent energy independence, which is an autarchic utopia, but providing energy security. That means the security of supply of energy resources, with a balanced mix of production capacities and functional and flexible energy markets," Iuga told BR.
He added that Romania should strive to diversify its sources of supply, including through increasing internal supplies by exploiting some untapped unconventional resources that it might possess, such as shale gas or deep-water gas deposits in the Black Sea.
Frank Hajdinjak, CEO of E.ON Romania, said, "This is a huge chance for Romania to become more and more energy independent, especially related to offshore gas but also to shale gas, which could be a good bet for the future."
Failed Nabucco West sends Romania back to the drawing board
Local policymakers' discussions on the diversification of energy supply and independence have intensified in the past few months, as a BP-led consortium had to choose a route for Azeri gas from the Shah Deniz second stage field into Europe.
The EU-backed Nabucco West, in which Romania held a 17.4 percent stake, was defeated by the Trans Adriatic Pipeline (TAP). The winner has an 800 kilometer shorter transport route and a 20 billion cubic meter smaller capacity. Around 10 billion cubic meters of gas will be delivered to the Italian market in the initial stage of the project.
"The pipeline could have strengthened Romania's energy security by diversifying the gas supply sources, as Romania currently imports gas only from Russia," said Iuga.
Nevertheless, the Nabucco West consortium – comprising state-owned companies and major European oil firms – said it was considering resources in Turkmenistan, Iraq and the Black Sea as alternatives to the Azeri gas. State-owned gas transport operator Transgaz was the Romanian shareholder in the pipeline.
Cosmin Stavaru, partner at law firm Bulboaca & Asociatii, reckons that participation in the Nabucco West project would have increased Romania's energy security and geopolitical standing as a transit country, and could have reduced gas prices.
"The failure of the Nabucco project should not be considered a dead end for the Romanian energy strategy, as it was just one of the feasible alternatives available," Stavaru told BR.
Meanwhile, Romanian President Traian Basescu has become an energy maverick, telling the European Council that the country will take its energy future into its own hands, without waiting for anyone's approval. He said Romania was "obliged" to accelerate the exploration phases and start exploiting shale gas and hydrocarbon resources in the Black Sea.
Building infrastructure for offshore gas
Following a visit to Petrom's offshore platforms in May, PM Victor Ponta said Romania could become energy independent in the next decade due to the massive resources found in the Black Sea.
"The idea of having energy independence and having the capacity to become one of the biggest producers in the region is not just a dream, it's not simple propaganda. It is a reality and the government will fully support these investments so that in time, the oil and gas production in the Black Sea can fully cover the demand from industry and the Romanian people, and will turn Romania into an important player in this region," said Ponta, quoted by Agerpres newswire.
US-based ExxonMobil and Austrian OMV Petrom found a gas deposit during their joint exploration works in a Black Sea block. The deposit has been estimated to contain between 42 and 84 billion cubic meters, which could cover Romania's consumption for the next three to six years.
The companies recently completed a 3D seismic survey of the Neptun Deep block and expect to invest around EUR 1 billion in the exploration program.
Canada-based Sterling Resources also found gas, during exploration works carried out in a Romanian offshore concession block.
The next challenge for Romania will be to transport the gas onshore, and experts say this will require contributions from the producers and the state.
"Transgaz can build the infrastructure as part of the national gas transport network; some of it probably has to be built by the producer. From the platform to the onshore connection with Transgaz, the producers need to invest, or different projects that exist around us – transport pipelines between countries – could be used to transport this gas," Zoltan Nagy-Bege, member of the regulatory board at ANRE, the energy watchdog, told BR. He added that offshore gas could help Romania become energy independent, but the country has to come up with a strategy to attract serious investments in infrastructure.
Valeriu Binig, director, financial advisory services, energy & resources and corporate finance, at the professional services firm Deloitte Romania, said that from discussions with big investors, a private-public partnership is recommended to build the transportation infrastructure.
Gauging shale gas potential
In a report published in June, the US Energy Information Administration (EIA) estimated that the technically recoverable shale gas resources in Romania stand at around 51 trillion cubic feet (1.4 billion cubic meters), enough to meet the country's energy needs for 100 years. Romania came third in Europe, behind Poland and France.
Policymakers have portrayed shale gas in the media as the means to cut Romania's reliance on gas imports from Russia. At present, the price of domestic gas stands at USD 160 for 1,000 cbm, while Russian imports cost USD 400, according to specialists.
President Basescu said that Romania can have shale gas at half the price and Black Sea gas at a "reasonable" price, when production kicks off.
At present, US-based Chevron is waiting for the final approval to start placing shale gas exploration rigs in one concession in eastern Romania. The company has been awarded four shale gas perimeters, out of which three are located off the Black Sea coast, in the Dobrogea region.
The government has caved in on shale gas exploration, after PM Ponta imposed a moratorium on such explorations one year ago. Since then he has changed his tune, arguing that shale gas could supplant Gazprom's imports from the market. He said that any decision regarding the exploitation of shale will be made around 2018, when Chevron should complete explorations works. Offshore production should also start by the end of this decade.
Calin Vilt, counselor at the Romanian National Committee for the World Energy Council, described how a shale boom has reshaped the US economy. He said that the US had registered a dramatic drop in the price of natural gas, transforming it into an exporter of natural liquefied gas (NLG). The cheaper gas created a business case for the chemical sector, with over 17 new chemical plants being under construction. The US has started to set up new NLG terminals and build NLG transport ships for exports, following the shale boom.
"If the shale gas deposits are confirmed by explorations – in Poland, in one of the three perimeters, explorations have confirmed below 50 percent of the initial estimations, and now after 90 drills another 150 will be required in the remaining perimeters – there is a chance for us to be independent from gas imports in the next 30 to 50 years," Vilt told BR. "Certainly there is extraordinary geopolitical interest from Gazprom, which has been hard hit by a 35 percent reduction of gas deliveries to the EU and Romania." He added that the biggest beneficiary of the shale boom would be the horizontal industry and the petrochemical sector.
Stavaru of Bulboaca & Asociatii said that shale gas and offshore deposits require significant investments, which Romania cannot afford alone. He commented that these resources must be exploited by foreign companies under concession agreements or similar arrangements, while the Romanian authorities must carefully consider the impact of such projects and professionally negotiate these contracts to maximize gains. He added that the environmental impact is a concern, especially in the case of shale gas, due to the risks of underground water pollution and seismic side effects.
"The exploited resources may be freely traded by the concession holders, including by export; therefore, in order to secure energy independence, the Romanian authorities must attract such resources on the domestic market or actively participate in investments such as Romgaz's (e.n. the state-owned gas producer) in Black Sea exploration activities. There will be a great deal of responsibility for everyone involved in such projects on behalf of the Romanian state, which may explain why so little has been done so far," said Stavaru.
Ion Andronache, CEO of Syscom 18, said that Romania will be unable to develop an energy strategy for the next 20 to 30 years.
"Until we understand that we need strong Romanian companies, as well as banks and investment funds, we won't do anything and the discussions regarding Romania's energy independence will only increase the adrenaline of the misinformed people," Andronache told BR.
Syscom 18 is a system integrator for the oil & gas sector and has worked primarily with national oil companies and foreign oil firms in the Middle East, Africa and Central Asia.