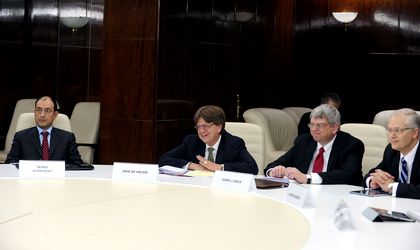 The Romanian government has asked the IFM to prolong the current stand-by agreement until the end of June to complete more reforms in the public sector, and plans to sign a new accord with the international lender, in a bid to keep the budget deficit in place and continue the privatization program.
IMF's chief of mission for Romania, Erik de Vrijer, said the extension was requested because of delays to structural reforms. Romania has also failed to address the growing level of arrears in the public sector. Last week, the IMF, European Commission and World Bank completed the last review missions of a EUR 5 billion agreement with the country.
"Because there were some misses on targets and there were delays in structural reforms, the government has asked to extend the accord by three months and we have agreed to ask our board to grant this request," said de Vrijer, quoted by Bloomberg newswire.
The government pledged to carry out by April a secondary public offering (SPO) involving gas pipe network operator Transgaz and the initial public offering (IPO) for nuclear power producer Nuclearelectrica on the Bucharest Stock Exchange. In addition, Romania is aiming to sell a majority stake of 51 percent in the railway freight operator CFR Marfa and a minority stake of 20 percent in the airline Tarom by July.
Relu Fenechiu, the transport minister, said that all state-controlled companies under the Transport Ministry would appoint private managers in the next 90 days. Tarom and railway operator CFR were the first companies to get private managers and boards.
PM Victor Ponta said a new agreement with the IMF and the European Commission would maintain Romania on a program of "fiscal discipline and structural reforms", which is needed by all European economies in the near term.
With the privatization and private management programs off track, the economy remained stagnant last year.
The IMF has forecast economic growth of 1.5 percent of GDP this year, while the budget was built on a "conservative" 1.6 percent growth.
Meanwhile, BCR – the largest lender in Romania – said the economy would grow by 1.1 percent this year, sustained by additional public resources supplied by the government, a normal agricultural output and a slight recovery in external demand.
Ovidiu Posirca