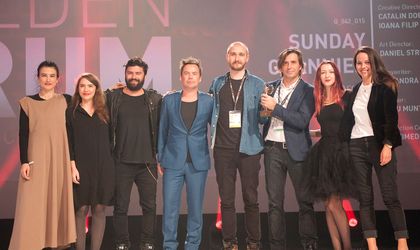 Romania had the biggest number of entries at this year's Golden Drum festival in Portoroz, Slovenia. All of the 5 agencies that were shortlisted left home with awards, but the biggest winner of the night was McCann Worldgroup Romania that won 20 awards and nominations, among which 1 Grand Prix, 3 Golden Drum, 6 Silver Drum and 10 nominations. Due to these results, McCann became, for the 4th time, festival's Agency of the Year (2006, 2007, 2011, 2015), maintaining this way its title as the most awarded agency in McCann network in CEE and in Romania.
McCann's awards and nominations came for five of group's clients, namely Vodafone Romania, KFC Romania, Rom Autentic, Untold Festival and Renasterea Foundation.
"We started in 2005, when we lost the Agency of the Year award at 3 points difference. Since then, we won or were in top 3 agencies in CEE every year. I think the most important thing is that we managed to create one of the best agencies in Europe now, able to compete in terms of global and regional campaigns with anyone and anytime," said Adrian Botan, global creative director of McCann Worldgroup.
"This performance is based mainly on a profound understanding of our clients' business. In a continuously changing media environment, the challenge is to motivate people to get involved in our campaigns. McCann manages to do so because it has a deep understanding of their lives. Moreover, with our campaigns, we managed to go beyond conventional and, many times, to become a point of reference. We thank to our clients, which are always a source of inspiration, and to McCann Worldgroup Romania's team for this performance," also said Sagit Tzur-Lahav, CEO at McCann Bucharest.
"This year, we are proving again that, if we focus on integration, on digital, innovation and cultural tensions, we can generate creative campaigns, awarded and, more than everything, efficient for the brands in group's portfolio. I am proud of MRM and MCCann teams because, together, they reached to this performance also in 2015," added Nir Refuah, chief creative officer & GM at MRM//McCann Romania.
McCann's winning campaign this year were: "Sunday Grannies" for Vodafone Romania, "#littlemoneybigfun" for KFC Romania, "Pay With Blood" for Untold Festival, "Romanians come home" for Rom Autentic, "Pin The Pink" for Renasterea Foundation. Another campaign for KFC Romania, "Don't Panic", was nominated in Digital.
Another highlight for Romania at this year's Golden Drum was GMP Advertising that set its own record, by becoming the first agency in the festival's history which scooped the Tartini Award, offered to the Independent Agency of the Year.
GMP won 2 Golden awards, one in PR for "We all make mistakes. We are also paying" for Domo/Westwood and one in Radio with "The auction: George's attention" and "The Auction: Anna's attention" for Volkswagen. The agency had on shortlists Domo campaign in Integrated, "Let's Launch It Together" for Telekom in Events and "Veterans of Depression", in partnership with TVR, in Film, with the ad "The Depression Makeup Artist".
"To be recognized as one of the best independent agencies in 37 countries, as many as Golden Drum covers, it is a big joy and an important recognition. For that to happen the second time in three years is even more awesome. I am grateful to agency's team and to our clients for trusting our creativity and for the courage of approving lateral solutions," said Andreea Nemens, executive director of GMP Advertising.
Publicis Romania was also a proud agency at Golden Drum 2015. The agency succeeded in winning one Grand Prix in "Digital" and 2 Golden Drums in "New or Innovative" and "Media – Best Use of the Medium" categories for "Street View Test" campaign, client ACR (Automobil Clubul Roman). The same client, but with a different campaign, "#seatbeltb00bing" brought Publicis Romania 2 more Silver Drums, in the "Digital – Social network & Community" and "Mobile" categories, taking the whole result to a 5 awards victory.
"We are very happy and proud of these results that have behind them two extraordinary and innovative ideas. We haven't only received the most important award – the Grand Prix – in such an important category as Digital, but we are also in top 5 agencies of the region and our client in top 3 clients. All those results are due to an intense work program, that I really want to thank for the whole Publicis Romania team. Our goal is to rise the quality of the creative services and we want to consolidate our position as the most powerful Publicis bureau in the CEE and, why not, to become a creative hub in the region," commented Jorg Riommi, chief creative officer of Publicis Romania.
Another agency that did Romania proud was Leo Burnett Romania also posted good results at Golden Drum, coming back from the festival with a Gold Drum and a Silver Drum for "Come to vote" campaign, made by the agency for Pro-Democratia Association. The 2 ads of the campaign scooped Gold in Film (TV, cinema, online), while the entire campaign scooped Silver in Integrated. The campaign was created to change Romanians' way of acting when it comes to voting and encourage as many people as possible to exercise this right.
The competition awarded this year 53 Silver Drums, 32 Golden Drums and 14 Grand Prix, and also 1 Good Cause Grand Prix Award. Young & Rubicam was awarded the Golden Net award for the most successful agency network at the festival.
When it comes of special awards, Golden Watch went to 2 creative directors, Ayse Aydin (Executive Creative Director Y&R Team Red) for Vodafone Red Light Application 2.0 and Jason Romeyko (Executive Creative Director, Saatchi&Saatchi – Global Chief Creative Officer for GSK & Deutsche Telekom) and the campaign THE HIV+ ISSUE.
Virtuoso awards were available in three categories and awarded in 2:
– Best Cinematography and Craft in Film – Marcin Koszałka, LVOV Poland, for "Last Bottle"
– Best Illustration – Zoo Istanbul, Y&R Team Red Istanbul for a Vodafone series of entries (Speechbubble-Mountain, Tunnel  and Skyscraper)
– Best Photography – wasn't awarded.
Off Drum competition winners of the Piran Portoroz Poster Award were Nino Ilievski (1st with Salty & Soul Worthy), Andrea Kostovska (2nd with "be the sea. never stop moving") and Elena Gratiela Dinescu (3rd with "Just come once").
Young Drummers Competition Beat the Drum for Change 2015 winners, which was held in cooperation between Golden Drum and DDB Worldwide, was dominated by Romanian creatives: Alexandra Horvath, Alice Mihalache (1st with "Real experience"), Maria Guseth, Alexandra Bombita (2nd with "You are not your age") and Andra-Cristina Bria (3rd with "The Gold of the Yold").
[First photo: Sunday Grannies Grand Prix; Second photo: McCann team]
Romanita Oprea