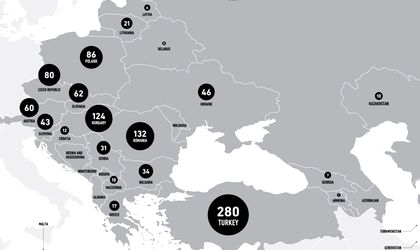 Eighteen advertising agencies from Romania, with 132 works, are taking part in the Golden Drum 2015 festival, making Romania the second country by the number of entries in the competition, after Turkey. 
Golden Drum, one of the biggest and best known international advertising festivals, will take place this year in the period 13-16 of Octombrie in Portorož and Piran, Slovenia. The festival attracted 1208 works from 25 countries from the New Europe. 
26 different networks submitted their entries in the Golden Drum competition, all competing for the Golden Net Award. 32 percent of all entries (396 entries) were submitted by independent agencies, bringing the overall number of entrants to 255 this year. From the 25 countries that entered the competition this year, Bulgaria has the biggest rate growth with 242 percent than last year, followed by Hungary (a growth of 221 percent), Slovenia (with 179 percent), Turkey (with 152 percent), Romania (with 150 percent), Slovakia (with 131 percent) and Austria (with 122 percent).
Area of 37 countries of North, Eastern, Central & South Europe, Russia and Middle East which each year compete in the Golden Drum Festival represents a market of over 400 million consumers – and only the best creative works get selected to compete for Golden Drum Awards. 17 Grand Prix Awards Golden and Silver Drums, Golden Rose, Tartini Award, Golden Net, Brand Grand Prix, Good Cause Grand Prix Award, Virtuoso Awards and Golden Watch Award will be awarded to the best entries.
From the 1208 entries, 396 were submitted by independent agencies and will race for Tartini Award. The Single Channel showed an important growth in two groups this year as group A. Film received 32 percent more entries while group G. Digital went up 19 percent. All groups in the Multi Channel section have shown growth with a total of 13 percent more entries submitted this year, which indicates an important development of creative communication campaigns and a continuing strategic shift in agency work this year (last year Multi Channel section received 12 percent more entries than in 2013). Both groups for new and innovative in Single and Multi Channel sections have seen growth this year (14 percent in group N and 39 percent in group X respectively) which can be interpreted as a very good sign for the creative industry.
Golden Drum International Advertising Festival, one of the biggest advertising festivals in Europe, is a four day event, organized by the Slovenian Advertising Chamber, which offers great learning experience and career aspiration for everyone working in the creative advertising industry, granting easy access to top industry experts, unique friendship opportunities and cultural mix while remaining the best place for networking. This year's theme of the 22nd Golden Drum International Advertising Festival, organized by the Slovenian Advertising Chamber from 13 to 16 October 2015 in Grand Hotel Bernardin in Portoroz, Slovenia, will be "Transformation, liberation and creative culture".
Romanita Oprea