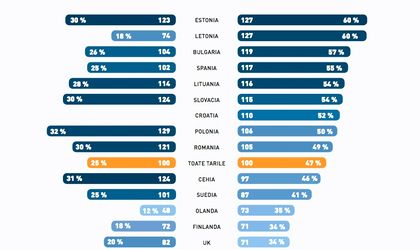 Among 17 European countries, Romania is positioned slightly above the average of 47.2 percent, dedicating 49.7 percent of the monthly family income (the equivalent of EUR 291) to vacation expenses, a study conducted by Ferratum Group shows.
According to the survey, Romanians will spend 16 percent of their incomes on travel in the country, 14 percent for one day fun activities (beach, swimming pool, club, restaurant) and 10 percent will spend on travel abroad.
Travelling inside the country is the most common expense in other European countries also, accounting for an average of 17 percent of a family's income. Spain ranks first in this category (25 percent), followed by Lithuania (21 percent) and Denmark (20 percent). Sweden, Finland and Bulgaria occupies the 4th place with 19 percent.
On the other hand, most tourists who will travel abroad this summer are the Dutch and the British (17 percent), followed by Danes and Swedes (15 percent), Germans (13 percent) and Bulgaria (12 percent).
In terms of one day leisure activities, Spain leads the rankings with a score of 24 percent. Denmark and Sweden are also keen on restaurants (16 percent), followed closely by Poland and Croatia, who plan to spend about 15 percent of the total funds on social activities.
For summer vacations Romanians spend almost double the budget for winter holidays (47 percent in the summer vs 25 percent in winter). However, compared with the European average, when it comes to Christmas expenses, we tend to be more generous than in the summer (30 percent as compared to the 25 percent average).
Over 30 percent of European households are planning on spending more on vacation this summer compared to the previous year, and 40 percent will maintain the same costs as in the summer of 2014.
In Europe, 12 percent of income are allocated to summer home improvements, gardens or even wardrobe.
Bulgarians (21 percent) and Lithuanians (19 percent) are planning DIY and gardening activities, while Germans will devote 14 percent of their revenues for a new summer warderobe.
Summer festivals or sporting events are not so popular among the middle class. Only 5 to 6 percent of spending goes to such events.
In eastern Europe, the relative amounts allocated for the holiday are much higher than in the West. With the exception of Spain, the countries that spend most on holiday in Eastern Europe are – above the average disposable income (47 percent).
Estonia and Latvia top the list of holiday expenses (based on family income) with 60 percent (Estonia – EUR 629, Latvia – EUR 621). By comparison, Denmark and Germany dedicate the smallest budgets to summer holidays (27 percent and 28 percent respectively).
In Western Europe there are large differences between countries regarding the amounts spent. A Danish middle class family allocates 27 percent of their income for their vacation expenses in summer, while their Spanish counterparts spend almost 55 percent on travel, relaxation and summer trends. Ranked second among the top spenders in western countries is Sweden with 41 percent (EUR 1,171).
The survey covered 5,685 families in 17 European countries. Respondents are aged 21 to 65 years (60 percent of which are women). The average net income of participating families is comprised between EUR 720 and 3,800.
Natalia Martian