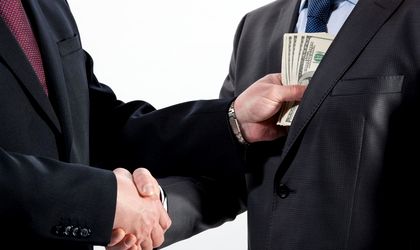 In 2015, Romania obtained 46 points out of 100 and ranked 58th out of 175 countries whose corruption levels were assessed by Transparency International (TI) in their Corruption Perception Index (CPI). This was an improvement from 2014 when with 43 points, Romania occupied the 69th place on the index, according to a press release from TI Romania.
The CPI, which shows the level of public sector corruption perceived by businessmen and women and country experts, was first calculated for Romania in 1997, and in 2012 it was included in the National Anti-corruption Strategy as a performance indicator for it.
The aim for 2015 was to reach a score of 63 points, undershot by 17, and reach close to the average level of European Union member states, specifically of 65.36 points last year, says TI. "Even though the progress is unsubstantial from last year, the sustained efforts of Romania in the fight against corruption are starting to be visible in the index evolution", explains the press release, with the mention that 2015 marked the first time in the past few years when the CPI for Romania increased.
TI Romania's first response to the CPI results was the launch of the Program or Integrity Certification for Companies, which is characterized by three steps. Firstly, it starts by formulating a set of values and principles adapted for each company's organizational culture. Then it continues by building the operational framework for the implementation of the management system for ethics and conformity, while the final step represents the company's investment in ensuring integrity in its distribution and supply chain. A transversal component of this program is represented also by developing a system of checks, self-evaluation and reducing the risks caused by lack of integrity.
As part of this program, TI will offer technical assistance to companies, following which they will "publicly certify the existence within that particular company of internal mechanisms necessary to prevent integrity-related incidents", adds the press release.
Andreea Tint