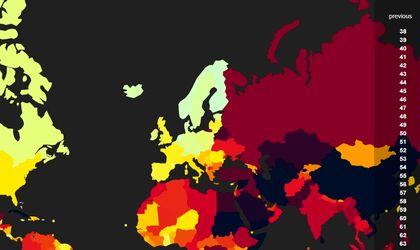 From last year, Romania went down three positions from 42 to 45 in the world rankings on press freedom, document released by the French organization Reporteres sans Frontieres (Reporters Without Borders). According to their official website, Romania's position is below Papua New Guinea but ahead of the US.
The 2014 Reporters Without Borders World Press Freedom Index spotlights major declines in media freedom in such varied countries as the United States, Central African Republic and Guatemala and, on the other hand, marked improvements in Ecuador, Bolivia and South Africa.
The same trio of Finland, Netherlands and Norway heads the index again, while Turkmenistan, North Korea and Eritrea continue to be the biggest information black holes, again occupying the last three positions, informs the official press release of the organization.
"The World Press Freedom Index is a reference tool that is based on seven criteria: the level of abuses, the extent of pluralism, media independence, the environment and self-censorship, the legislative framework, transparency and infrastructure," said Reporters Without Borders secretary-general Christophe Deloire. According to them, the index's annual global indicator, which measures the overall level of violations of freedom of information in 180 countries year by year, has risen slightly. The indicator has gone from 3395 to 3456 points, a 1.8% rise. The level of violations is unchanged in the Asia-Pacific region, but has increased in Africa. Also, the world's most dangerous country for journalists, Syria, is ranked 177th out of 180 countries.
The 2014 index emphasizes the negative correlation between armed conflicts and freedom of information. In an unstable environment, the media become strategic goals or targets for groups or individuals trying to control news and information in violation of the guarantees enshrined in international conventions. More about this index, here.
Reporters Without Borders organization had in December 2013 an official complain written for Victor Ponta Prime Minister of Romania, Valeriu Zgonea, Head of the Chamber of Deputies and Crin Antonescu, Head of the Senate regarding the fact that the Romanian Parliament voted to recriminalise insult and libel as part of a wider amendment of the Penal Code, thus undoing the progress made by Romania during the last eight years to legally protect the right to freedom of expression. More about this joint statement, here.
Oana Vasiliu