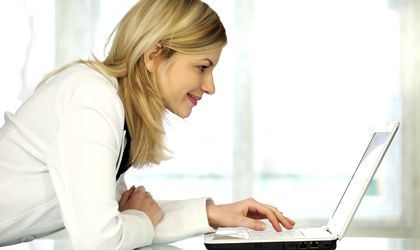 Local companies still turn up their noses at employing freelancers for reasons related to traditionalism, lack of trust and lagging mentalities. Romania holds one of the top positions in Europe in terms of earnings from freelancing activities, but projects come mainly from abroad. Freelancers, bloggers, HR and taxation experts shared their experiences and views on the matter with BR.
By Otilia Haraga
A personal journey
"It all started in 2007 when an internal 'revolution' happened. My parents offered me the opportunity to visit the great European cities for a few weeks. I was 18 at the time, and I noticed that people there had a different 'work culture': they were relaxed, calm and well organized and their satisfaction level was considerably higher than in Romania. I thought I should try it as well," Roxana Nasoi, freelancer and Elance Romania consul, tells BR.
She started with small steps in 2008 while still a student, looking up information about freelancing on the internet. "I chose freelancing because I could not have managed to attend a state faculty and work at the same time. (…) Freelancing offered me the chance to study for five years, follow a state curriculum and earn money, even though at first I did not earn very much," Nasoi says.
Among the benefits of freelancing, paramount is the cultural diversity, working with people from various cultures, she found.
Secondly, "the client is not your boss" but an equal partner who shares his or her business vision. "There are cases where clients don't know what they want, and you become, above everything, a consultant in their business, guiding them on the path to success. The freelancer in a business is like the first brick in a construction: the stepping stone to a unitary successful whole," says Nasoi.
Thirdly, freelancing offers the freedom to organize one's space and time as one sees fit and choose one's clients. Fourthly, it allows time-space flexibility. "You can work wherever you want if you have a laptop/tablet/smartphone and a good internet connection. You can work from the seaside, from a café, from a friend's house, from the bedroom or living room. You can work during the holiday for two-three hours a day. You are not dependent on a work space, an hour or a time zone," she points out.
Last but not least, the financial gain can be an incentive. "You earn well – very well. At the start you earn less while you build up a portfolio of clients and gain experience, but once these are in place, things are different. Clients come to you, you select them, you set the price. You can make your own team and a virtual company and generate 10 times more profit," Nasoi says.
However, a word of advice: freelancing is not for the faint hearted. It can take from months to several years until one can make a living out of freelancing alone. Furthermore, it does not provide a regular income. "Some months, you might have 10 projects and others you can have none. You must make sure you either have clients all the time (and here there is no recipe for success) or manage your money so that if one particular month you make no revenues, you are still covered," says Nasoi.
Fees can be negotiated on a per project or hourly basis "Some clients pay a fixed sum per project, no matter how long it takes to make it happen. For instance, I can complete a USD 1,800 project in a month or even two-three months," says Nasoi.
Other clients pay by the hour. "This usually happens on the websites I use, which are Elance and ODesk," says Nasoi.
She charges a minimum of USD 20-24 per hour. "I cannot do more than 10-15 hours per project per week. Everything is very well calculated so that I do not end up working more than seven hours a day. Out of this sum, after I pay taxes I am left with USD 16-20 per hour. This involves the commission taken by the platform as well as banking fees, withdrawals etc", says Nasoi.
The freelancer must be up-to-date with the latest info in their domain, whether it is web design, mobile apps, SEO, copywriting, social media, data entry or similar. "You have to be a Jack of all trades. You are not an employee, but in practice a firm that offers a certain service. This means you must lead the sales, negotiation, business plan, do the work per se, send reports, check, be a manager, coordinate. For all these, you must work with yourself. This involves self-motivation, self-coordination, time management, the management of resources, negotiations, generating results, financial calculations and profit – for every client. When you create a team around you, more tasks pile up on the management side," says Nasoi.
Local IT freelancers stand out in the crowd
Online freelancing platform Elance ranked Romanians in third place in Europe, after Ukraine and the UK, in terms of earnings between 2007 and 2012, when Romanian freelancers earned USD 16.4 million. In 2012, they cashed in USD 5 million.
Worldwide, Romania was ranked seventh in terms of revenues. Companies from the United States, Australia, the United Kingdom, Canada and the United Arab Emirates hire the most Romanians.
Local freelancers are active mainly in domains such as IT & programming, where they earned USD 12.6 million, and graphic design & multimedia, where they gained USD 2.8 million, between 2007 and 2012, according to Elance.
"IT freelancers are well prepared, speak foreign languages and are a relatively cheap workforce compared to Western European countries. From the trainers' viewpoint, freelancing is not very attractive," Leonard Rizoiu, business unit manager in the Barnett McCall division, recruitment and selection, Gi Group Romania, tells BR.
"A Romanian IT freelancer could earn anything between EUR 3,500 and EUR 9,000 per month. A trainer freelancer could make between EUR 1,000 and EUR 1,300 per month while a freelancer in recruitment earns between EUR 1,300 and EUR 1,500 per month," says Rizoiu.
"Programmers take the icing on the freelance cake in Romania, as is to be expected. Then there are freelancers in fields related to the web, IT and design. Niches such as translations are coming strongly from behind," says Cristian China Birta, blogger at Chinezu.eu.
"Statistics we have so far – not very detailed, it is true – place the average income of a Romanian freelancer at USD 20/hour. This, in relation to Romanians' average revenues, is really okay," says China.
Other fields where freelancers have made an impression include design, journalism, photography, social media, business, translation, education, art, communication, consultancy and even health.
Romanian freelancers make more than 90 percent of their revenues from contracts with foreign clients. However, in the past year there have been signs of defrosting on our market as well. (…) We will know in about two years if there will really be a market for this or not," says China Birta.
Large companies generally have an in-house employee but they may turn to a freelancer in some cases. "If they have an emergency and need to resolve it quickly, freelancers are available. Maybe they are stuck and need a new idea. The employee may have a blockage – a long time working in the same style can do that – and it takes a fresh point of view. Or maybe they need a specialist for a particular type of problem," Oana Olaru Zainescu, design blogger at Zaineasca.ro, tells BR.
SMEs employ freelancers for specific projects, but often are satisfied and continue the collaboration. "While in large companies freelancers bring freshness, to SMEs long-term relationships must provide continuity in their style. It is often very difficult for a freelancer to mould to the original style, so companies are starting to prefer working with the same freelancer," Zainescu adds.
The other side of the coin is when companies prefer to hire an agency with 20 employees, a business plan and a coordinator. "Often, they are unaware that there is only one person actually doing all the work," she says.
Still, there are still very few companies in Romania that hire freelancers, compared to what happens abroad. "In statistical terms, let us say that every 10 minutes the number of freelancing projects from international companies is updated. While on the Romanian market, the number of projects from local companies is updated once a month. Interesting, right?" says Nasoi.
The mentalities that are still lagging behind in Romania are one obstacle. "There is still a general feeling that if you are a freelancer, it means you are unemployed and people are not familiar with this concept," Irina Scarlat, freelancer and managing partner at ProvePR, tells BR.
"There is a preference for contracts for a limited period (six months to one year) to oblige the freelancer to acquire the status of employee and come to work for eight hours a day," says Scarlat.
Legal and tax considerations
A freelancer must consider issues such as paperwork and legalities. "Banks do not consider freelancing a source of stable revenue and do not grant loans. However, a freelancer does not resort to bank loans too often anyway," says Nasoi.
The freelancer's legal status is yet another issue. Oana Manuceanu, senior manager, tax consulting, PwC Romania, explains that there are two main categories of freelancers: those who get authorization from the Registry of Commerce (sole traders) and those who can provide services only based on special authorization issued by professional bodies (members of the so called liberal professions regulated by special laws).
For the liberal professions, rules to get a qualification are stricter, explains Manuceanu. "They must obtain a professional license/authorization that is usually issued after passing an exam (auditors, accountants, architects). As members of professional bodies, they have to pay an annual fee and get professional insurance," she says.
In terms of fiscal obligations, both sole traders and liberal professionals have the same liabilities, with a few exceptions.
Fiscal costs for freelancers are lower than overall costs for employment. On the other hand, freelancers must meet their payment obligations and organize single-entry bookkeeping. "This entails the additional costs of a professional accountant and more time spent in the event of tax audits/follow-ups with the authorities for payment allocation/tax decision issuance," says Manuceanu.
"A simplified taxation regime based on a fixed income quota is available for certain activities strictly listed by the law, such as photography, taxi driving, crafts and agriculture," she adds.
Otilia Haraga