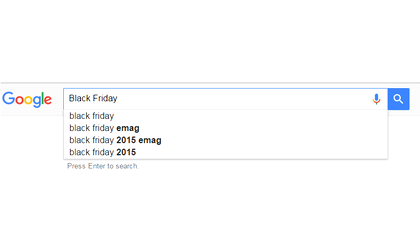 Romania comes in second after the United States of America in terms of interest for Black Friday, according to Google Trends.
Analysing search volumes reported to population numbers, Romania scored a 64 index (while USA, being first, represented 100), followed by Puerto Rico at 45 and Canada at 43. The highest level of interest in our country is found in Covasna, followed by Dambovita, Calarasi and Ialomita, while Bucharest came in with a 56 search index.
The Black Friday phenomenon was launched in Romania in 2011 and interest for it has been increasing yearly. According to a study by Today's online marketing agency, in November 2012 one in four Romanians said they were interested in Black Friday offers. In 2013 people started buying more online than offline, while in 2014 five million buyers totaled over EUR 67 million in sales. An eMag study says this year 6,5 million people intend to buy during Black Friday.
eMag seems to be connected to the phenomenon in online users' consciousness, with "black friday emag" being the most used search term, followed by "black friday 2014" and "black friday 2013". Rising in tendencies are the terms "altex black friday", "black friday 2015" and "black friday domo".
iSense Solutions, a local research company, released data concerning purchase intention of Romanian consumers, showing that 34 percent of respondents will take advantage of the Black Friday sales in 2015, an increase from the 28 percent registered in 2014.
In the top preferences of products to be bought are TVs and electronics (preferred by 33 percent of Romanians), followed by household appliances (31 percent), phones and tablets (25 percent) and IT products (19 percent), similar to the ones recorded in 2014.
According to the study, women surpass men in their intentions to buy appliances (37 percent versus 25 percent) and clothing and footwear (15 percent versus 6 percent). Meanwhile, shoppers aged between 15 and 24 years want most to buy mobile phones or tablets (40 percent versus 25 percent of all buyers). Also, 43 percent of people with higher household incomes (RON 5,000 or more) said they would buy appliances.
Natalia Martian