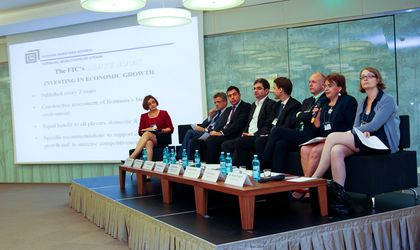 Geographical position, domestic market size and a relatively cheap workforce continue to be cited by foreign investors among their main reasons for coming to Romania. But is this still enough given the economic and political climate? BR tried to find out at the fourth edition of the German-Austrian Investment Forum.
By Simona Bazavan
Romania remains an attractive investment destination for many of those already doing business here, but in order to bring new investors and face competition coming from neighboring countries, the country has not only to address existing setbacks but also promote its selling points more professionally, argued many participants at the event.
The picture that German and Austrian investors doing business locally have of Romania is not shared by those back in Germany, where news about the country is mostly negative, they said.
One of the local sectors that German investments are expected to target is that of renewable energy, said Sebastian Metz, general director of the Romanian-German Chamber of Trade and Industry.  However, the lack of predictability remains a major stumbling block and the recent political turmoil has worsened things, making it difficult to know the vision of the current government, he added.
Another sector with investment potential is agriculture, although Romania is facing several challenges in this area such as the land fragmentation problem which will have to be addressed as it is unsustainable in the long term, argued Johannes Becker, owner of Becker Consult. In his opinion the time is right to invest in crop farms which continue to be good business, although not as good as some years ago, while the zootechnics sector is less attractive.
Real estate has been one of the hardest hit sectors by the economic downturn, but this the market will pick up, said Andreas Holler, member of the executive board of Adama Group. Land and construction prices have gone down but access to bank financing remains restrictive, he said. Nevertheless, there is a need for new apartments in Romania, but this time around the supply has to reflect the demand – with smaller surfaces and cheaper prices – and not repeat the mistakes of the past. The time of gold diggers ended in 2008, emphasized Holler.
Austrian companies present locally had invested some EUR 9.4 billion by the end of 2010 while German investments amounted to a total of EUR 5.6 billion until last year with EUR 424 million brought to Romania in 2011 alone. And more could come, said participants at the event.
Romania loses trust over political turmoil
Political events this summer have affected Romania's image abroad and the authorities need to promote the country as an investment destination more professionally, said Rudolf Lukavsky, commercial counselor with the Austrian Embassy to Bucharest.
Trust has been lost between Romania and Germany and the political crisis this summer was one of the main reasons, confirmed Metz. "Our chamber is organizing about 30, 40 events a year in Germany and we explain the actual economic situation in Romania, which is better than in other countries, but the German business community needs confirmation from higher Romanian officials which is lacking right now,"  he said.
"Political relations between Romania and the rest of Europe went through a difficult phase this summer. It reaffirmed the need to talk and explain things (…). There is a great need to explain what is going on in Romania. The perception of Romania in Germany is probably worse than it should be," said Sonja Kreibich, economic and commercial counselor with the German Embassy in Bucharest.
"On the other hand I often get the feedback that we really need to distinguish between political perception and the true attractiveness of Romania as a place to invest. And many companies say they know about political instability but they don't depend on who's in government in Romania right now," she added.
Investors need vocational workforce
Romania's workforce has always been mentioned as one of the reasons foreign investors set up shop locally, but in order for Romania to remain competitive it has to invest in vocational courses as there is a growing need for trained workers, warned participants.
"It is actually very important to work on this because otherwise we will have a situation where we hire university graduates to work in production and this can't be the solution," said Metz. When it comes to vocational training, Romanians also have to overcome a prejudice that favors higher education, explained Rusandra Sandu, associated partner, head of the corporate/M&A department at Noerr Romania and the event's moderator.
The lack of trained workers can be solved by putting together a partnership between the authorities and the private sector, said Metz. Such a dual professional training system has enabled Germany to have a lower unemployment rate than the European average, in particular among young people, recommended Kreibich.
"There is a need for private initiatives. It is up to the companies to say 'we need these professionally trained people, we have an idea of how to do it so let's talk to the authorities to set up a training program," she explained.
A first initiative of this kind, the Kronstadt German Professional School was set up earlier this year and recently started the first school year. It resulted from a partnership between several German companies and the local authorities. The curriculum and the practical training are agreed upon with the private companies which at the end of the program hire the students. In their turn, the authorities make available the building where the classes are held and cover the running expenses. The focus is on practical training and at the end of the program the students obtain a degree valid both in Romania and Germany.
Photo: Mihai Constantineanu