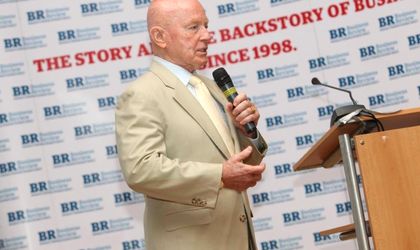 Privatizations of state-owned companies and accessing EU funds are the two things that would help Romania accelerate growth, said Mark Mobius, executive chairman of Templeton Emerging Markets Group during the first day of the Foreign Investors' Forum organized by Business Review.
"Privatizations are the number one thing that should be done. We are now in a situation when we have these huge state owned enterprises which are still majority owned by the government and are therefore not willing to change, not willing to reform, not willing to become more efficient and not willing to become more profitable. Privatizations would bring money to the country but more importantly it would increase the productivity. This would result in a much more productive economy," he explained.
He added that although he understands that this is not an easy process and that there are political issues that go with this, accomplishing this goal would help get the economy moving.
Accessing EU funds should be the second priority, he recommended. "Romania has a lot of money in Brussels waiting to be spent. And you have to ask the question why it that you have this money and it isn't used? Again, it is a government issue, a political issue. How can we get politicians together to agree to pursue very important infrastructure projects? Infrastructure means growth for this country," said the businessman.
Read more in the next print edition of Business Review