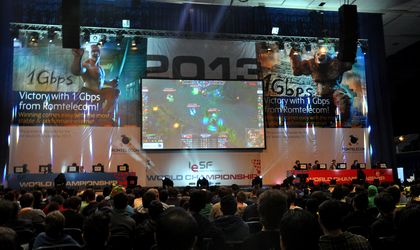 About 5,000 gaming fans descended on Bucharest's Polivalenta Hall last week, when Romania hosted the Electronic Sports World Cup for the first time ever, after four years in a row with South Korea as host country. The Asian nation swept the board in all the men's eSports competitions last week while also taking gold in one of two women's finals, but Romania looks set to become a bigger player in the arena in the future.
By Otilia Haraga
"I was actually expecting this to be a lot harder, but after the first matches, when I saw the other players, I became confident that I could win," Swedish gamer Madeleine Leander, a.k.a. MaddeLisk, who grabbed the gold in the women's Starcraft 2 final, told BR. "I was the most nervous about the Korean girl because she was so overhyped but when I saw her play, I knew I could beat her!"
Leander, 27, is currently pursuing her PhD in mathematics, but apart from doing research and teaching at university, she also games for about 30 hours per week.
"I had actually never played computer games before I started with Starcraft, and two or three years ago I barely used the computer. I started gaming with my friends – we used to play four against four while talking on Skype, and it was really fun. Then the female cups started, and my friends encouraged me to participate," she told BR.
Even though winning the Starcraft 2 final earned her EUR 2,000, Leander said that she was "definitely not in this for the money." The latest eSports competition from which she came back with a prize was the University Star League, a tournament for university students in Sweden, and, of course, the qualifiers for the Electronic Sports World Cup hosted in Bucharest last week.
This was South Korea's year: in the ranking of nations, the Asian state came first, followed by Sweden and Russia.
After organizing the Electronic Sports World Cup in South Korea for four years in a row, the International e-Sport Federation (IeSF) decided to appoint Romania host country for this year's event, which took place over November 1-3 at the Polivalenta Hall in Bucharest.
"We have had this in mind for some time. By having the world cup in Korea several times in a row, we could not meet the needs of all fans and players, so we wanted to bring the sport to the Europeans this time," said Alex Lim, general manager of the International Relation Department of the IeSF, who was involved in the organization of the event for close to a month beforehand.
South Korea also prevailed in the much-awaited final of League of Legends, where its team crushed the Netherlands in two rounds out of three, to win EUR 20,000. The country also ran out winners of the Alliance of Valiant Arms (A.V. A.) game, when its Astrick team defeated Thailand, earning EUR 13,000.
In the women's competition, South Korea was also well represented by Yi Sub Yang, who won the Tekken Tag Tournament 2 against her Russian opponent, and nabbed a EUR 2,000 prize.
Romania did not make it into the top three in any of the competitions. However, gaming is gaining in popularity here as well, slowly but surely, Romanian League of Legends gamer Ovidiu Stoian, a.k.a Cliqque, tells BR.
Stoian, 18, has been playing for the past two and a half years but wants to apply to the Military Academy. "I started playing League of Legends because it is a team game; I'm not really into individual games. You have to be very sharp all the time, because anything can change the game," he says.
Oddly enough, Romania is not well represented in any team competition, whether in conventional sports or eSports. "Generally, in any sport, Romania does not do very well in team games. All the top performances it has delivered were in individual competitions," Silviu Stroie, president of the Professional Gamers League in Romania, tells BR.
He adds that when it comes to team sports, it is more complicated because players need to be "serious, patient and united". "You also need five people who are on the same wavelength and who get along very well," he says.
Stroie adds that in Europe, the Na'Vi team from Ukraine and Fnatik team from England are the best teams. "Na'vi was the first team from the Western hemisphere to win a USD 1 million prize during a competition two years ago," says the representative.
Still, with Stroie having been appointed, just last week, vice-president of the IeSF – being the first European ever to make the IeSF management – Romania stands a good chance of success going forward.
But for this to happen, there is also a need for a change in focus and mentality.
For instance, Korean League of Legends player Sang Hyun Lee, 23, who studies Mathematics Education at Korea University, tells BR, "Training hard is important. We play nine or ten hours each day."
Lim, of the IeSF, adds, "In South Korea, gamers have a lot of fans and they make a lot of money too. (…) Many of these eSports teams live together in the same house. They get up very early in the morning, have breakfast and start playing games. They have coaches, most of whom are former players, and also have personal trainers, because they work out. They need to be in good shape so that they can withstand the pressure of the tournament. Typically, they might play for up to 12 hours a day so they need to be in condition to win the game."
He explains that in South Korea, gamers do this for a living and team members are paid monthly salaries.
Just like in conventional sports, players will retire at some point. "I think this is because all these games are related to technology trends and younger people are more familiar with new technology," explains Lim.
In fact, pretty soon, the borders between conventional sports and eSports will become even more blurred. "As the Korean eSports Association (KeSPA) is getting recognized by the sports authority probably next year, gamers will be called 'athletes' instead of 'players,'" Lim told BR.
Next level: Romania may host Electronic Sports European Cup
The eSports World Cup in Bucharest gathered about 5,000 visitors, a very good attendance rate even by South Korean standards. "In Korea, there are many such events going on: both events organized by the IeSF, and those organized by the Korean eSports Association," says Stroie.
At the moment, there are ongoing negotiations with the Romanian government to host the Electronic Sports European Cup in Romania as well. "Maybe by the end of this year, we will be able to make this announcement officially," Lim tells BR.
This year was the very first time gamers had had to take anti-doping tests, a practice which will continue in future years. "They were tested for exactly the same substances that are tested for in any sports event," says Stroie.
The anti-doping tests were carried out by the Bucharest Anti-Doping Agency and the results will come back in two weeks.
The IeSF is now affiliated to the World Anti-Doping Agency, since it applied to be affiliated to Sport Accord (the International Federations' Union) (ed. note: the union for both Olympic and non-Olympic international sports), which will be voted upon in April 2014.
"We are trying as a federation to follow all the norms applied to any regular sports events, by organizing competitions for men and women, carrying out anti-doping tests, and so on," Stroie tells BR.
As a future priority of the IeSF, of which Stroie is now vice-president, eSports may make it onto the list of the European Olympic Games organized by the European Olympic Committee, due to take place in Azerbaijan in June 2015.
"We are very close to an official announcement that eSports will become an official discipline in the European Olympic Games. The Romanian Olympic Sports Committee is taking part in the event and most likely, we will have Romanian eSports players there," says Stroie.
This information is confirmed by Lim, who adds that the federation "needs to be able to send technical delegates to make preparations for the event."
otilia.haraga@business-review.ro