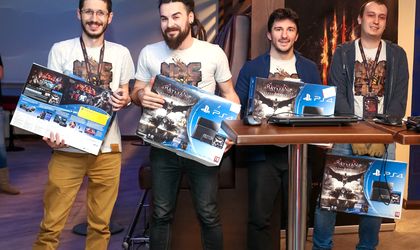 The team that represented Romania in the fifth edition of the Nordeus Hackaton, the largest game development marathon in South-Eastern Europe, came in the third, after Croatia and Great Britain.
The Romanian team called TanK'd (in picture) received high scores for the creativity and rapidity at which they developed the game Wheely & Screwy.
The topic of this year's competition was "The Puzzle Platform." The Croatian team Binx managed to create in under 24 hours the winning game of the competition, followed on the second place by the Mechabit team from Great Britain.
The competition welcomes ten teams out of seven European countries: Bulgaria, Croatia, Greece, Serbia, Ukraine, Great Britain and Romania.
"Over the past five years, Nordeus Hackaton became an international competition that attracts the best teams of gaming professionals in Europe, who manage to create remarkable games in just 24 hours. We can honestly say that all participant teams exceeded our expectations," said Branko Milutinovic, CEO of Nordeus.
Otilia Haraga