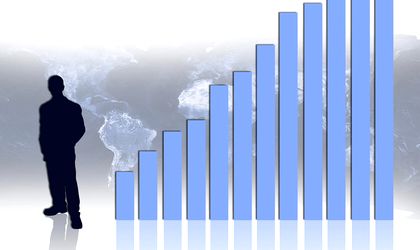 Romania has placed second after Poland in a top of the most dynamic IT firms in Central Europe, based on turnover increase over a period of four years, shows Deloitte's ranking CE Technology Fast 50 2015.
Romania recorded a significant increase for the third consecutive year, with the average growth of Romanian companies in the 2015 top reaching 544 percent. For this year there were 29 companies registered, compared to 18 in 2014, of which ten companies are included in the Fast 50, compared to six in 2014, shows the consulting and audit company's study. There was also an increase in the overall number of companies in the software sector.
Eight local companies in the Fast 50 are new entries, while the Big 5, a top that includes larger companies, with incomes too high to compete on an equal footing with the smaller firms in the Fast 50 top, includes two Romanian entities.
Five of the top companies are based in Bucharest, two in Cluj-Napoca, one in Iasi, one in Sibiu, one in Timisoara and one in Baia Mare.
"Romania recorded significant increases from year to year. This confirms the competitiveness of local businesses, especially that the talent of Romanian entrepreneurs makes a difference in the region in recent years," said Alina Mirea, Deloitte Romania partner and local manager of the Fast 50 project.
According to Ahmed Hassan, country managing partner of Deloitte Romania, most Romanian companies in the Deloitte CE Technology Fast 50 were established before the financial crisis, as compared to the rest of the region, where most companies were founded after 2009. The fact that local companies have crossed the crisis period with such high results shows that Romanian entrepreneurs have long term vision and can apply innovative solutions to crisis situations, he concluded.
With an increase of 998 percent, ZebraPay in Bucharest places sixth in the regional rankings, the best position occupied by a Romanian entity present in the top. ITNT of Sibiu, local leader Fast 50 in 2014, continued this year with a 933 percent rise (compared to an increase of 1,433 percent in the previous year).
Insoft Development & Consulting is also among the stars of this year, whereas it is present in two categories: first place in the category of Big 5 and fifteenth in the category Fast 50 as a new entry, with an increase of 577 percent .
Teamnet International stays in the Big 5 category this year also, dropping one position from last year's third place, with a growth rate of 127 percent.
Astinvest ranks 13th (with a growth rate of 705 percent), followed in 15th place by Insoft Development & Consulting (577 percent). Piconet ranks 21 (486 percent) and Geskimo places 42 (419 percent).
The average development of Fast 50 technology companies fell to 560 percent from 698 percent in 2014. Despite the increase in average rates of growth reported in 2014, there is a continuous decrease from the peak achieved in 2012 of 1.026 percent. This year's rankings include companies from nine countries: Poland (12 companies), Romania (10), Croatia (8), the Czech Republic and Slovakia (5 companies each), Hungary (4), Bulgaria, Lithuania and Serbia (2 companies each). Of the 50 firms, 38 are present for the first time, three of them climbed in the rankings, while eight went down. The top is, once again, dominated by software companies (29), followed by media (14), hardware (4) and telecommunications companies (3).
Natalia Martian