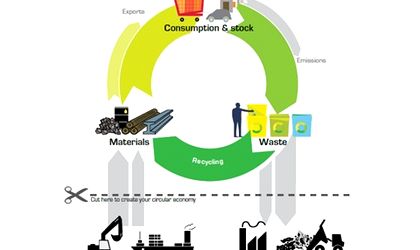 In a recent study by Eurostat, the statistical office of the European Union (EU), once again stays close to bottom when it comes to resource productivity, Romania dropping to 0.32 EUR/kg in 2014, just above Bulgaria (0.30 EUR/kg). The study analyzes differences in resource productivity between 2002 and 2014. Resource productivity quantifies the relation between economic activity (GDP) and the consumption of natural resources (domestic material consumption – DMC) and sheds light on how efficiently natural resources are used.
During the mentioned period, Romania, while showing an increase in GDP of 48.8 percent (registering a EUR 137.2 billion GDP in 2014), also had an important rise of 62.3 percent in domestic material consumption (having a 425.7 million tons consumption in 2014). This has brought Romania's overall consumption productivity down by 8.3 percent.
Across the Union, after remaining relatively stable between 2002 and the beginning of the economic and financial crisis, resource productivity increased considerably from 2008 to 2010, before dropping in 2011, and growing again since then.
With the EU average at 1.95 EUR/kg in 2014 (a 27.8 percent increase compared to 2002), the countries measuring the highest levels were Luxembourg (3.94 EUR/kg), followed by the Netherlands (3.82 EUR/kg), the United Kingdom (3.28 EUR/kg), Italy (2.89 EUR/kg), Spain (2.69 EUR/kg) and France (2.60 EUR/kg). At the opposite end of the scale, beside Romania six other member states registered resource productivity lower than 1 EUR/kg: Bulgaria (0.30 EUR/kg), Estonia (0.42 EUR/kg), Latvia (0.49 EUR/kg), Poland (0.61 EUR/kg), Lithuania (0.65 EUR/kg) and Hungary (0.89 EUR/kg).
Compared with 2002, most of the EU member states have seen their resource productivity in 2014 rise, with the highest increases being observed in Spain (+123.9 percent), Ireland (+96.7 percent), Slovenia (+67.6 percent), Slovakia (+60.6 percent), Cyprus (+57.8 percent) and Italy (+56.9 percent). In contrast, decreases were recorded in Estonia (-19.7 percent), Malta (-18.6 percent), Sweden (-2.1 percent) and Lithuania (-1.1 percent) along with Romania.
The study shows that the member states recording the highest increases in resource productivity were generally also those where domestic material consumption decreased the most. This was particularly the case for Spain (DMC halved between 2002 and 2014), Italy (-38.4 percent) and Ireland (-33.2 percent). Only in Bulgaria, Latvia and Poland did resource productivity improve despite a significant increase in domestic material consumption as in these three countries GDP grew even faster.
Conversely, in all member states where resource productivity decreased between 2002 and 2014, domestic material consumption significantly increased over the same period, notably in Estonia (DMC has grown by 80.6 percent between 2002 and 2014), Malta (+61.4 percent), Lithuania (+59.8 percent) and Sweden (+28.7 percent), Romania being no exception.
Natalia Martian