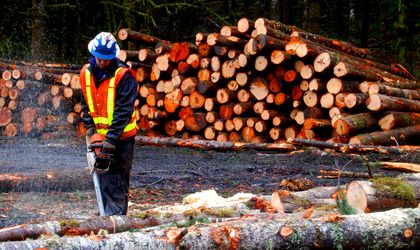 A Greenpeace analysis centering on illegal cutting of trees in Romania for the period 2013-2014 shows that there have been 62 cases occurring per day (a total of 45,509 cases). The pace of forest loss remains at 3 hectares per hour.
The new report shows information about illegal logging cases identified and investigated by authorities, indicating an increase from 28 cases per day in 2009-2011 and 50 cases a day in 2012.
The counties that recorded the highest number of cases of illegal logging are: Arges – 5,851 cases (12.85 percent of all cases nationwide), Bacau – 3,538 cases (7.77 percent) and Mures – 3,351 cases (7.36 percent). Arges county also recorded the highest number of cases of illegal logging identified by the authorities between 2009 and 2011: 6,458 cases.
"We emphasize that these data do not provide a complete picture of the real extent of the phenomenon of illegal logging throughout the country since government reports indicate an average of 8.8 million cubic meters of illegally extracted wood per year, but investigations of competent authorities refer only to the 16th part of the aforementioned figure," Valentin Salageanu, campaign coordinator of Greenpeace Romania said.
The volume of illegally harvested timber has increased, with most wood "disappearing" in Cluj, Alba and Maramures.
Authorities identified nationally an amount of 1.1 million cubic meters associated with the 45,509 cases of illegal logging, averaging at about 22 cubic meters per case. This represents an increase from the 120,836 cubic meters registered in 2012 and the 452,842 cubic meters recorded between 2009 and 2011.
There is a large discrepancy between the number of cases of illegal cutting of trees and the volume of timber extracted from each county, the report shows, leading to the strange situation of the counties of Cluj, Alba and Maramures having the highest average volume per case, though registering a smaller number of illegal logging cases. The three counties gather 78 percent of the total illegally harvested timber nationally in 2013-2014, with Cluj holding 37 percent of the total, Alba 23 percent and Maramures 18 percent.
As regards to loss, the total amount nationwide in 2013-2014 was estimated by the authorities at RON 230.9 million (about EUR 52.1 million). Due to the high volume recorded, Cluj, Alba and Maramures present the highest averages: RON 70,189 per case in Alba, RON 52,742 per case in Cluj and RON 27,227 per case in Maramures, the 3 counties totaling 79 percent of the damage.
The report shows that the phenomenon could be reduced by applying harsher punishments (including the assignment as a crime of theft of timber, regardless of amount – currently, under law, if the damage is up to five times the average price of a cubic meter of wood, the act is considered a misdemeanor, punishable by a fine). A better collaboration between institutions with control (Police, Forest Watch, Gendarmerie) and assigning additional personnel for better coverage of forests, of remote areas, and the organization of a permanent system security (overnight watch) are also measures that could help reduce illegal foresting, the study concludes.
Natalia Martian
Romania is a land of contrast. Business Review helps you make sense of Romania.
Is there something that puzzles you about our country? You might also be interested in this.