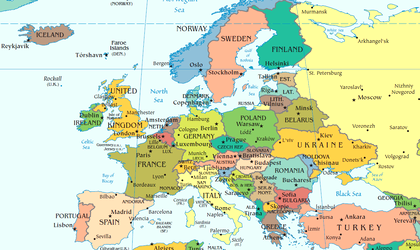 With an infant mortality rate of 9.2 deaths per 1,000 live births, Romania ranks first among European countries, show Eurostat data.
Around 19 thousand children died before reaching one year of age in the EU-28 in 2013; this was equivalent to an infant mortality rate of 3.7 deaths per 1,000 live births.
The infant mortality rate in the EU-28 was almost halved during the last decade. The most significant reductions in infant mortality were generally recorded within those EU member states which tended to record higher levels of infant mortality compared with the EU average.
Romania registered a significant drop from 15.3 deaths per 1,000 live births in 2003.
Along with Romania, Bulgaria also registered high levels of infant mortality (7.3). In 2013, the lowest infant mortality rates in the EU-28 were in Cyprus (1.6 deaths per 1,000 live births), Finland (1.8) and Estonia (2.1).
The average life expectancy at birth for Romanians in 2013 was of 75.2 years, an increase of 6 years compared to 1980. Like in the rest of Europe, women (78.7) are expected to live longer than men (71.6). Both values are higher than the 1980 values of 71.9 for women and 66.6 for men.
Life expectancy at birth in the EU-28 was estimated at 80.6 years in 2013, reaching 83.3 years for women and 77.8 years for men. During the more than a decade between 2002 (the first year for which data are available for all EU member states) and 2013, life expectancy in the EU-28 increased by 2.9 years, from 77.7 to 80.6 years; the increase was 2.4 years for women and 3.3 years for men.
For men, the lowest life expectancy in 2013 was recorded in Lithuania (68.5 years) and the highest in Italy (80.3 years). For women, the range was narrower, from a low of 78.6 years in Bulgaria to a high of 86.1 years in Spain. For comparison, in 2003, the lowest and highest life expectancies were recorded in Latvia (65.3 years) and Sweden (78.0) for men, and in Romania (74.8 years) and Spain (83.0) for women.
In 2003, the differences between the highest and lowest life expectancies among EU Member States amounted to 12.7 years for men and 8.2 for women. In 2013, the differences were 11.8 years for men and 7.5 years for women. Thus, while life expectancy increased in all Member States between 2003 and 2013, it generally increased more in some of the member states where it had been relatively low in 2003.
Life expectancy at birth is the most commonly used indicator for analysing mortality. It represents the mean number of years that a person can expect to live at birth if subjected to current mortality conditions throughout the rest of his or her life.
As people live longer, interest has shifted to the older generations. In 2013, once a man had reached the age of 65, he could, on average, expect to live between another 13.9 years (as in Latvia) and 19.3 years (as in France). The life expectancy of women at age 65 was higher. In 2013 it ranged from 17.9 years in Bulgaria to 23.6 years in France.
In Romania's case, life expectancy at 65 reaches 14.7 for men and 18.1 for women, averaging at 16.6 for the whole population.
With a gender gap of 5.5 years of life in 2013, newly born women in the EU-28 should generally expect to outlive men. Furthermore, this gap varied substantially between EU Member States. In 2013, the largest difference between the sexes was found in Lithuania (11.1 years) and the smallest in the Netherlands, United Kingdom (both 3.7 years) and Sweden (3.6). Romania is also pretty high on the list with a 7.1 gap.
The gap between the sexes was smaller when looking at the life expectancy at age 65. Women aged 65 in 2013 in the EU-28 had a life expectancy of 21.3 years, while for men it was 17.9 years, thus a difference of 3.4 years.
Over the past 50 years life expectancy at birth has increased by about 10 years for both men and women in the EU-28. Further gains are expected to be achieved mostly from the reduction in mortality at older ages. However, Europe's population is ageing, mostly due to reduction in fertility and the gradual reduction in mortality.
Natalia Martian