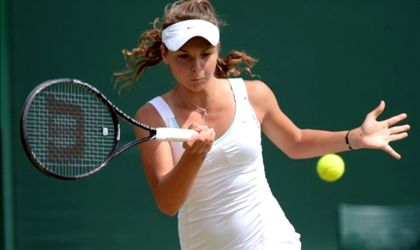 Ioana Ducu and Loredana Rosca won the Girls' Doubles final on Saturday (Junior Championship). The Romanian duo met played against Cathreine Cartan Bellis / Marketa Vondrusova (USA/Czech Republic) with the match ending 6-1, 5-7, 11-9 after an hour and opt minutes of play.
Ioana Ducu said that she hopes that Simona Halep would also win her upcoming final against Maria Sharapova.
"It's very fortunate that we understood and completed each other. We don't really have any more room for trophees but it's our job and we can make room. I hope Simona reaches the same result we did. We are very proud. We believe in Simona. The pressure should be on Sharapova because she won in Madrid", according to Ioana Ducu.
Loredana Rosca said that she hopes she can qualify in the senior group for Roland Garros next year.
"Next year we hope we can play in the senior qualifiers here at Roland Garros. It's a big boost for us that we see Romanian player in the grand slam tournaments", Loredana commented, quoted by Mediafax.
The Simona Halep/Maria Sharapova Roland Garrol final will start at 4 pm, Romanian time, broadcast by Antena 3 and Eurosport in Romania. The Romanian player will climb an extra position in the WTA ranking on Monday, regardless of result.