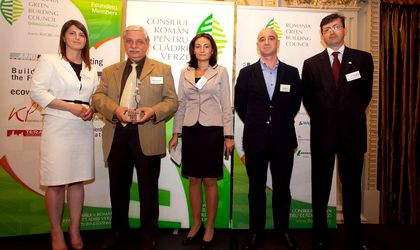 The Romania Green Building Council Awards Gala, an initiative of the Romania Green Building Council (RoGBC), is set to award the sustainable projects of 2012 at an event taking place on June 10th. The annual event recognizes the leaders in the green construction industry that are sustainability-oriented and support the RoGBC mission for promoting high performance buildings that are both sustainable and profitable.
This year's awards categories include: Government Initiative of the Year, Green Building Project of the Year, Sustainable Company of the Year, Green Product Innovation of the Year, Green Service Provider of the Year, Green Building Education Initiative of the Year.
The awards are opened to all companies with projects with projects, initiatives, work portfolio finished by December 31st 2012. The submission criteria for all the categories is available on the platform for green building practitioners, Construction21.eu/Romania.
 The awards will be judged by a jury made up of: Alinda Dudu –senior architect, Epstein; Claus Kegel – managing director, Heberger Constructii; Constantin Goagea- director, Zeppelin; Cristian Popescu- CEO, Cofely Romania; Dragos Riti– director constructions department, Erste Group Immorent; Eugen Goldhammer- energy auditor, EGEEA Design; Florin Furdui- country manager, Portland Trust; Hadley Barrett- managing partner, Oxford Sustainable Group; Perry Zizzi – partner, Badea Clifford Chance; Serban Tiganas- president of the Romanian Architects Order; Silviu Ginju- general manager, Strucon Proiect.