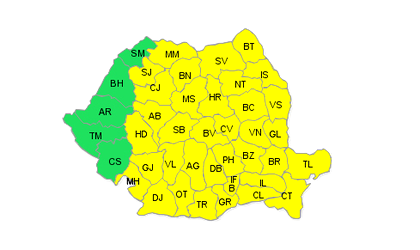 The National Meteorology Administration (ANM) has issued a new warning concerning frost and extremely low temperatures across the country, with only a few counties in the western part of the country escaping the yellow code.
After a weekend of heavy snowfall and blizzards leading to the closing down of schools and difficult traffic at the start of the week, ANM had initially announced a code yellow for low temperatures for the central and southern part of the country starting on Tuesday and continuing until Thursday. Today, however, the agency expanded the warning to most of the territory and the period of time to next Monday.
Therefore, between the 21st and 25th of January temperatures are forecast to drop to extremely low values especially during the morning and night, being frequently between -20 and -15 Celsius degrees, while in some areas they are expected to reach -28 to -25 degrees. The maximum values, well below 0, are not expected to go above -10 Celsius degrees.
During the night of Thursday to Friday (January 21 to 22) and during the day on Friday, January 22, temporary wind will intensify in Moldova and in the mountains, the ANM further warns.
Natalia Martian