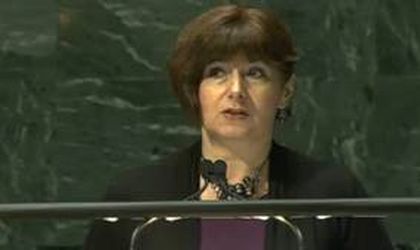 Romania was elected during a plenary meeting of the General Assembly of the United Nations Organization, in New York, through its Permanent Representative to the UN, Romanian Ambassador Simona Miculescu, in the position of Vice President of the General Assembly for the 68th session which will be held in September.
According to Romanian Foreign Ministry, the event provides an important image capital to Romania and the opportunity to guide debates in the highest forum of multilateral diplomacy. The central topics on the working agenda of the future General Assembly session will focus on implementing a set of measures that will articulate the relationship between mankind and the environment, an agenda founded on a continuous and sustainable development, on the global change for all and on a shared responsibility.
The President of the General Assembly and the 21 vice presidents are elected by the Member States of the General Assembly and exert their mandate until the end of the session for which they were elected. The 68th session of the General Assembly theme will be "Post-2015 development agenda: defining the action framework".
Romania's representative will hold this function until September 2014 and, in this office, is going to assist the General Assembly President in chairing the meetings, guide debates and formulate a part of the agenda of the General Assembly.
Oana Vasiliu