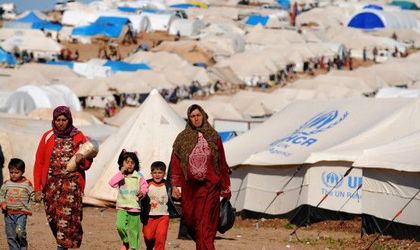 An EU official quoted by Reuters announced today that Brussels proposed a new distribution quota among member states, bringing Romania's share to a number almost fourfold larger than the original one proposed by our government.
Romania had originally offered to take in 1,705 persons from other member states, namely Greece and Italy, for a period of two years starting November 2015 and 80 persons from extra EU refugee camps.
According to the Brussels proposal 4,646 people would be added to our distribution list, bringing Romania to a total of 6,351 migrants received.
The new numbers come as member states' voluntary offers have fallen short even of the initial calculated influx of 40,000 refugees, while the numbers of people arriving in Europe has surged. Member states rejected binding national quotas in June but after more than 160,000 asylum-seekers have reached Italy, Greece and Hungary, the Commission, backed by Germany and France, is pushing for governments to accept allocations set for them in Brussels.
The refugees would be distributed under a formula, or "distribution key", based 40 percent on receiving countries' national income, 40 percent on population, 10 percent on the unemployment rate and 10-percent on how many refugees the country was already accommodating before this year's crisis.
The initial proposal to relocate refugees arriving in Italy and Greece would also be expanded to include refugees arriving in Hungary, of which Germany will take in more than 40,000 and France 30,000.
Except for Estonia (with 373 migrants added to an original number of 738) and Malta (133 people added to initial 292), the new quotas for all member states are significantly above the original volunteered quota, some of them being four times bigger.
Italy and Greece are exempt from taking in refugees. Hungary was initially expected to take in a share of them, but was later promised an exemption also. Italy and Greece are the main entry points for refugees who reach the European Union by sea, while Hungary as the main entry point for those arriving by land across the Balkan peninsula, has more recently become a focus of the crisis.
The three countries have now reported an influx of 160,000 migrants, with 66,400 arriving in Greece, 54,000 in Hungary and 39,600 in Italy.
The new proposal also aims at including Turkey and all the non-EU states of the Western Balkans on a new list of "safe" countries, whose citizens would face accelerated reviews of asylum claims to speed deportation for most of them.
European Commission President Jean-Claude Juncker is due to unveil new proposals on Wednesday. While Germany has said it is willing to take in many refugees and President Francois Hollande confirmed France's readiness on Monday to take in its share under the European Commission's guidelines, the quotas could see renewed resistance from governments which say they cannot cope with such numbers.
EU interior ministers will debate the Commission's proposals at an emergency meeting next Monday in Brussels.
Among member states, Britain has an exemption from EU asylum policy, as do Ireland and Denmark. However, Dublin volunteered to take in 600 people under the earlier scheme.
Natalia Martian