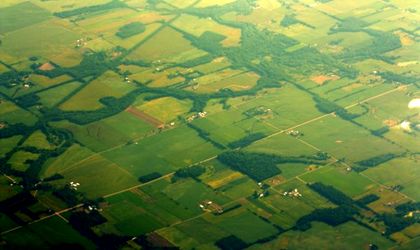 A draft bill that would limit individuals' ownership of farmland to 100 hectares will be sent to Parliament in a couple of weeks, the Romanian Ministry of Agriculture and Rural Development announced last week. If passed, the law will come into force on January 1, 2014, when the local land market will be liberalized, allowing foreign individuals to purchase and own land in Romania.
Asked during a press conference last week whether the law would breach EU legislation, agriculture minister Daniel Constantin said it would not, as it would apply to all individuals looking to buy farmland in Romania, regardless of their nationality. "We are not talking about a set of rules that would apply only to foreigners, but to everyone. This is something that I think should have long been implemented in Romania – individuals can't own or farm more than 100 ha of farmland. Those who want to farm larger surfaces can do this but only through locally registered companies," said the minister. The law will not have a retroactive effect.
In addition to the 100 ha ownership limit, the draft proposes several other restrictions on those who want to sell and purchase farmland. Co-owners who are individuals, neighbours, tenants, and individuals under 40 years of age involved in farming activities in the same area will have pre-emption rights to purchase farmland that is up for sale. The state too will have pre-emption rights and a special institution will be created. Plots of land located closer than 10 km from the border and those where archaeological remains are found would be permitted to be sold only with the approval of the Ministry of National Defense and the Ministry of Culture, respectively.
Interested buyers must prove they have farming know-how and at least five years of experience in the field. Those who already own farmland and want to buy more must prove that they have used the land they own for farming activities.
From January 1, 2014, non-resident foreign citizens are set to be able to buy local land, under Romania's Treaty of Accession to the EU. As land prices continue to be much cheaper in Romania than throughout the rest of the EU, local farmers complain they will face unfair competition from international players who have far greater financial power.
The liberalization has frequently been debated over the past couple of years, with many fearing that unless restrictions are imposed, come 2014, massive farmland acquisitions will be made by foreigners.
However, foreign investors can, and many have, circumvented the existing legislative restriction by purchasing land through locally registered companies.
Simona Bazavan
Simona Bazavan