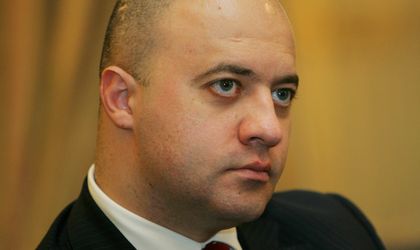 The Romanian authorities have broken up a high-ranking criminal network that used forged documents to take out loans from banks, in a fraud worth EUR 22 million, according to prosecutors from DIICOT (Romania's Department for Organized Crime and Terrorism).
The crime ring had 33 members and caused EUR 4 million of losses, while trying to obtain another EUR 18 million illegally, according to judges. The three leaders of the banking scam have been arrested.
Prosecutors said the fraud was abetted by Aurel Saramet, director of the National Guarantee Fund for SMEs, Claudiu Cercel-Duca (in picture), BRD vice-president, and officials from the Ministry of Economy.
The suspects are alleged to have forged companies' financial data to make them appear eligible for loans. Employees of these firms had their pay checks beefed up in order to qualify for loans too. The ring also tried to obtain European financing by providing fake documents for the firms.
"We are not talking about a banking crime network  (…) This is a crime group outside the banks and there are 16 bank branches involved, not three banks," said Mugur Isarescu, the central bank governor, last week, quoted by Agerpres newswire.
The Romanian Banking Association (ARB) said the fraud had impacted 0.28 percent of the banking system, which is comprised of 5,688 branches. The value of the fraud represented just 0.0043 percent of the country's total loan book value of EUR 51 billion. The association argued that the criminal group was operating outside the banking system, based on the evidence in the public domain.
"The banking community maintains transparency and unconditional support for the completion of the investigation, as it wants this case to be quickly cleared up. The size of the case shouldn't worry bank customers, either savers or borrowers," said the ARB. The ARB stated that bank representatives had provided information during the investigation.
BCR has been cooperating with the organized crime investigation division of DIICOT since May. In the second quarter its antifraud division discovered that the loan files of four firms in Calarasi, Oltenita and Bucharest contained false information. The lender fired the employees involved and filed penal complaints against them. BCR said the case had not impacted its regular activity.
BRD said it would cooperate with authorities, also commenting that it had not suffered disruption.
Ovidiu Posirca