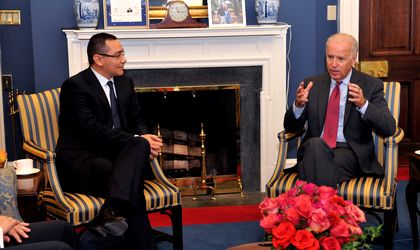 Prime Minister Victor Ponta said last week during a joint press conference with US Vice-President Joe Biden that the government has started to implement an action plan to increase the presence of US companies in Romania, covering an array of fields including commerce and economic development.
[restrict]
Biden said that the most important step Romania could take to attract investments and create jobs would be to strengthen its rule of law and at the same time continue clamping down on corruption.
Valeriu Nistor, president of AmCham Romania, and Eric Stewart, president of the Romanian-American Business Council, said in an opinion piece that the action plan was intended to improve the quality of public policy in Romania.
"Decision makers will benefit from the crucial experience of industry experts when drafting legislation in the public interest – it is free, qualified advice. Additionally, guaranteeing the appropriate public access to draft legislation and conducting proper impact assessments prior to adopting new rules will allow the business community and other stakeholders to flag potential unintended consequences that could harm ordinary Romanians," said the two advocacy group representatives in a statement.
During a joint press conference with President Traian Basescu, Biden said that there was still "important work ahead" in order to further enhance trade, investment and energy security between the two countries.
Mihail Marcu, president of Romanian Business Leaders, an association promoting entrepreneurship, told BR the country was "looking good" from an macroeconomic perspective, although there were still unresolved issues related to legislation and corruption.
Biden's visit comes on the backdrop of the ongoing tensions in Ukraine, following Russia's annexation of the Crimean Peninsula. NATO has expanded its presence in the region and the vice-president strongly stated that the US would honor Article 5 of the NATO Treaty, which says an armed attack against one NATO member is an attack against the whole alliance.
"We also spoke at some length about energy security and how national security and energy security come together in this part of the world in the need to ensure that Russia can no longer continue to use its energy resources and European dependence on those resources as a weapon – a weapon against anyone in this region," said Biden.
"And that's why I believe that the development of a secure, diverse and interconnected energy market in Europe is the next big step for our European colleagues to initiate in a great project of European economic integration," he added.
Two American oil majors are currently working on projects in Romania that could enhance national energy security, according to commentators. Chevron has started shale gas exploration in eastern Romania, while ExxonMobil has an ongoing exploration program with Austrian company OMV Petrom in the Black Sea. Analysts say that if these deposits are proven viable, exploitation will start by the end of the decade. In the meantime, Romania is building a gas pipeline that has reached the Republic of Moldova, in a bid to reduce its dependency on Russian imports.
PM Ponta also assured the US VP that Romania will ramp up its public defense spending to 2 percent of GDP in the next two years.
Ovidiu Posirca
[/restrict]