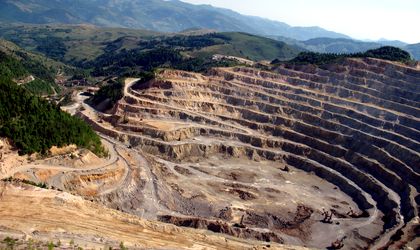 Canadian firm Roman Copper Corp. is pursuing legal actions against the Romanian state as the privatization office (OPSPI) ceased to finalize the transaction with the company that bid EUR 200.7 million for state-owned Cupru Min and won the auction on March 26.
Negotiations were carried out for the next ten days between the auction winner and the Ministry of Economy, OPSPI, the mineral resource agency and Cupru Min, leading to a cancellation of the transaction on April 7 as contract clauses imposed by the ministry were not accepted by Roman Copper Corp.
The Ministry of Economy wanted the Cupru Min buyer to publish the acquisition contract, set up a collateral deposit of EUR 32.27 million as guarantees for environment investments and pay the bid price in 30 days from the granting of environment permits.
The firm has appealed to local and international law firms to protect its status of winner in Cupru Min privatization and has also contacted embassies to support their case against the state.
"We have acted in good faith, we have respected the tender conditions, we have followed the rules set out by OPSPI (The Office for State Ownership and Privatization in Industry), and we won the tender," said Joel Hayes, president of Roman Copper Corp.
Daniel Chitoiu, the new Economy minister, said on May 7, during commission hearings in the Parliament, that the privatization procedure for Cupru Min will be restarted in 4 months after an environment permit is granted although he didn't mention when this will happen.
President Traian Basescu said on Monday, during the appointment ceremony of the Ponta government, that the major structural deficits in the pension and healthcare fund can be solved only if more jobs are created. The president told the government this could be done by investmentments in the mining sector.
"Gold and copper exploitations are a solution due to increasing prices of these commodities on the worldwide market," says Basescu.
Hayes said he is pleased that PM Victor Ponta announced from the start of his tenure that the main priority is to respect the law and expects Romanian authorities to finalize the privatization of Cupru Min as stipulated by the tender process.
Roman Copper Corp. is a consortium established last November, which was the winner in the open-cry auction for Cupru Min, which owns mining rights and is operator for the Rosia Poieni project. It estimated that around 60 percent of Romania's copper deposit is located in this area, along with gold deposits.  The company is financially backed by Bayfront Capital Partners, a Canadian investment bank boutique, and Valhalla Resources, a Canadian mineral exploration company which owns assets in Turkey and Romania.
Ovidiu Posirca