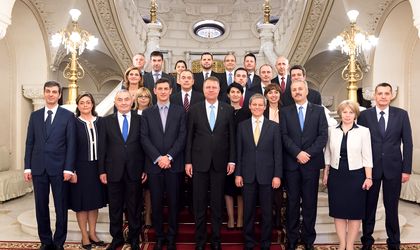 Romania's first technocratic government will be facing several significant challenges until elections in late 2016, from presenting a budget for the next year that will maintain growth rates while also accommodating tax cuts already approved by Parliament to the absence of permanent backing from a political party behind them.
The new government enjoyed a large majority in the confidence vote, but "this does not mean that this majority will be permanent in Parliament, I am well aware of this," said Ciolos in an interview with Digi24. Because of this limited support base, the new government will have to negotiate backing for every bill, which Ciolos describes as "an intense dialogue with the political parties" but which may very well lead to potential lagging in government proceedings, according to Bloomberg.
Furthermore, Romania is going through a "trust crisis" and "this trust crisis is very dangerous, including for the future of democracy in Romania", saidCiolos. Around three-quarters of participants in an "INSCOP Barometer – The Truth about Romania" September survey reported having very little trust in the government, with only around 8 percent having confidence in political parties.
In order to achieve this goal of "openness towards civil society, public debate and consultation on large government projects and to create a direct communication channel with civil society", the new government has set up a new Ministry of Public Consultation and Civic Dialogue headed by Violeta Alexandru, director of the Institute for Public Policy, said Ciolos at the weekly government meeting last Thursday.
The new government will also have to step up Romania's anti-corruption efforts in the wake of the Colectiv fire and the mass protests that ousted Ponta's government since public anger hasn't dissipated yet, "with the disquiet prolonged by news that safety rules were disregarded and checks not carried out", said Bloomberg.
The Ciolos government is also facing significant economic challenges. "Ciolos must present a 2016 budget that accommodates the tax cuts, which have already been approved, while keeping the deficit within 3 percent of economic output", said Bloomberg. In order to follow through with initiatives from its predecessor, such as trimming sales taxes and raising state wages, the new government aims to "as much as possible, keep those wage increases that have already been agreed on by Parliament and passed into law", stated Ciolos.
So far, the Ciolos government has stated that they have come up with a calendar that will see the 2016 budget finalized and adopted around December 10, according to media reports.
One proposal in particular that will represent a challenge for the new government's budget is that of the 10 percent increase in state wages brought forth by the former prime minister's government. This initiative has already been passed by Parliament and is awaiting ratification by the President, but has so far drawn"criticism from Romania's international creditors, resulting in the suspension of the government's backstop loan facility with the International Monetary Fund", said Bloomberg. In regards to this proposal, the new government will "wait for the legal process to be finalized" with the most it can do being "to push the budget deficit up to 3 percent", said Ciolos.
Moreover, the new government must at least maintain the current pace of economic growth, currently among the EU's fastest rates, according to Bloomberg. "The central bank and the IMF have warned that lower taxes and pay rises for state employees risk damaging the nation's longer-term prospects", stated Bloomberg. And yet, "room for maneuver is limited given wide parliamentary support for fiscal-widening measures, which could lead to a budget deficit of 3.3 percent in 2016 without any compensatory measures," said Silviu Pop, an economist at ING Bank Romania, to Bloomberg.
Andreea Tint