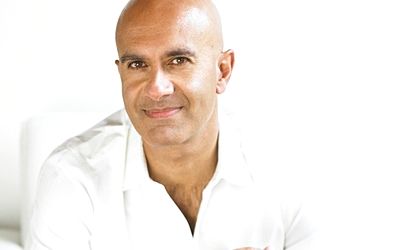 Robin Sharma is a leadership expert, bestselling author of 15 books aiming to change mentalities and lives, a motivational speaker on topics of leadership and personal development. He shares his knowledge all over the world, lecturing on leadership principles and techniques that can contribute to the professional success of corporation specialists, of entrepreneurs and others. For more than fifteen years Robin Sharma has been called upon by CEOs in organizations to coach them and to teach their employees. Among his clients and collaborations are: Microsoft, GE, NIKE, FedEx, IBM, NASA, IMD Business School, Yale. Before his September 17 Best Performance Tactics for Success event in Bucharest he shared a few thoughts on having a life and career that ultimately lead you to your goals.
Which are in your opinion the most important qualities a leader must have?
— inspiration and a vision
— empathy and a desire to grow more leaders
— a fire in the belly to do great things
— an understanding that as you become great, people will want to bring you down
— a devotion to innovation daily
— a desire to make the world better and to be of use
On 17th September 2015 you will return to Bucharest for the "Best Performance Tactics for Success" seminar. Considering your previous encounters with the Romanian audience, how receptive do you think we are when it comes to leadership and personal success?
Very. I love Romanian audiences. So passionate, intelligent, interested and kind to me.
Do you have any professional guru?
The books I read and the people I meet.
If you have to choose a place to live until the end of your life, where will that place be?
There are so many places that come to mind ranging from Positano to New Zealand. Maybe Mauritius.
Looking back at your career, which is the thing you are the most proud of?
— the people and companies I've helped
— the quality of work I've put out into the world
— the innovation my team and I have brought to our industry
If you could change something in your past, what would that be?
Nothing. My past has served me well and both the good and the hard have led me to an interesting life.
Please name top three of the biggest joys you have experienced in your life.
Great question!
— landing in a helicopter on a glacier in Alaska with my children and watching them drink the water with their hands
— the day I became a ski instructor
— running my annual event The Titan Summit in Toronto last year and experiencing the results
What is the main difference, in your view, between people that find a way to enjoy their life no matter what hurdles they have and the ones that lose themselves in their problems?
Another great question! I think it comes down to personal leadership and a commitment to doing an enormous amount of inner work. As you read and contemplate and reflect daily on your thinking and behavior, you can start making small but steady changes. As you surround yourself with good, excellent, healthy and loving people, new ways of operating open up.
And also, as you grow and evolve, you have the power to install new habits like "The 5 am Club" that I'll discuss in Romania and exercising daily and regular gratitude practice. As you do these things with consistency, the way you think, feel and perform cannot help but change.
People who lead wonderful lives are not lucky. They are just more thoughtful, committed and focused.
They say that life is what happens to us while we are chasing to reach our goals. Do you agree? If so, what would you advise people that live exclusively to reach their goals and satisfy their ego?
Well I agree that life can be very unexpected–and change in a day. That has happened to me. Our world can collapse in a day or two. But that doesn't mean that we shouldn't set our visions and goals. I believe doing so are acts of personal responsibility. Let us do our best (always)–and then accept with grace and dignity whatever happens.
Find out more about the event here and get your special discount only with Business Review on the register page.