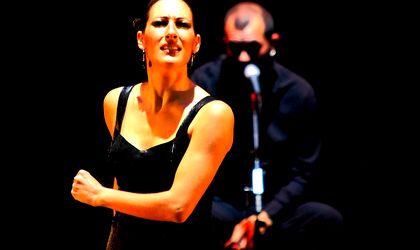 Spanish dancer Úrsula López is bringing her passionate flamenco show, Abriendo Caminos / Opening Roads to Bucharest, where she will share with both connoisseurs and first-timers her interpretation of this seductive art form.
Enjoying a reputation for giving highly authentic flamenco performances, López's company is said to flawlessly combine on stage the technique of several artists: López and Cristian Lozano (dance), Javier Patino (guitar), Vicente Gelo (voice) and Raúl Domínguez (percussion).
The show will employ the classical format (two dancers and three musicians) and all the major styles of flamenco dance, namely seguiriyas, fandangos, romance, farruca and tangos. López is a well-known dancer of flamenco and classical Spanish. Her long career at the top dance companies, in all of which she rose to become a soloist, laid the bedrock for her solo career.
Abriendo Caminos / Opening Roads is one of the artist's own productions, an elegant, simple and highly aesthetic flamenco dance, made ​​up of high quality steps and artistic technique, and based on the exhilarating music of guitarist Patino.
Abriendo Caminos / Opening Roads takes place at 20.00, on May 14, at the National Theatre. Tickets are available from the National Theatre ticket desk and online, on www.bilet.ro.
Oana Vasiliu