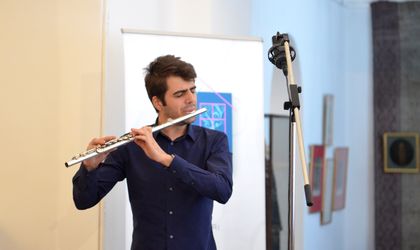 Wednesday, February 3rd (starting with 19:00), the Radio Hall brings under the baton of conductor Cristian Brancusi the winners of the sixth edition of the Road to fame contest, a press statement announces.
The three soloists of the evening are flutist Stefan Diaconu (first prize), cello player Alexandru Totan (second prize) and pianist Ionut Gabriel Diaconu (third prize). Diaconu has been a master's student at the Royal Danish Academy of Music, Copenhagen, Denmark since the fall of 2015. Totan is currently a student in the fourth year at the National University Music Bucharest, while Diaconu is an eighth class student of the National College of Music George Enescu Bucharest.
Winners were chosen by a jury composed of musicologist Oltea Serban Parau, conductor Tiberiu Soare and Excesmusic director Sebastian Gheorghiu, after five rounds of competition.
The evening's repertoire at the Radio Hall will bring together three scores: Beethoven – Concerto in C Major for piano and orchestra no. 1, Saint Saens – Concerto no. 1 in A minor for cello and orchestra and Sebastian Androne – "certo, con flauto" for flute, strings and percussion. The latter will be a first audition performance.
Sebastian Androne is the winner of the fourteenth edition of the International Competition "George Enescu" the composition section, for his symphony score titled "Tektonum / motto: Every act of creation is first of all an act of destruction". Event partners are the Pro Valores Association and the Union for Interpretative Creation of Musicians in Romania.
The Road to fame is an educational event organized by Radio Romania Cultural, Bucharest City Hall through the Cultural Center of Brancoveanu Palaces, the Pro Valores Association, the Bucharest School Inspectorate and ExcesMusic. The initiator and coordinator of the project is Sebastian Craciun, a host of Radio Romania Cultural.
The concert can be heard live on Radio Romania Cultural all frequencies and Radio Romania Musical from home and live streaming on the Internet at www.romania-muzical.ro and www.radioromaniacultural.ro.
Tickets are available on www.eventim.ro, in Germanos, Orange, Vodafone, Domo, Carrefour, Carturesti, Humanitas, in OMV filling stations and the Radio Hall ticket office.
Natalia Martian