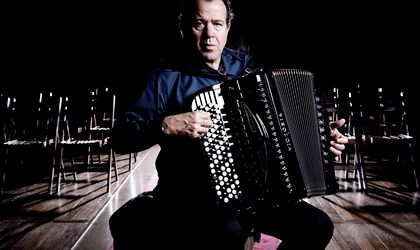 One of the greatest accordionists in the world, whose name needs no further introduction, the French artist Richard Galliano, will arrive in Bucharest for an extraordinary concert performed together with the Big Band Radio Orchestra.
Galliano has decisively revolutionized the general perception on the accordion, by turning it into a "star instrument". In the concert at the Romanian Radio Hall you will listen to a work by Piazzolla and several compositions by Galliano himself. At only 23 years old, Galliano became known in Paris as arranger, conductor and composer. He performed together with Claude Nougaro, Barbara, Serge Reggiani, Charles Aznavour, Juliette Gréco and many other famous musicians. Now his portfolio comprises over 400 works.
The event will take place under the wand of the Romanian conductor Ionel Tudor, on March 8, at the Radio Hall, from 19.00.
Tickets are available on www.bilete.ro, in the offices of the Romanian Postal Company, at the Inmedio shops labeled Bilete.ro, in the Germanos retail chain and at the Radio Hall box office.
Tatiana Lazar