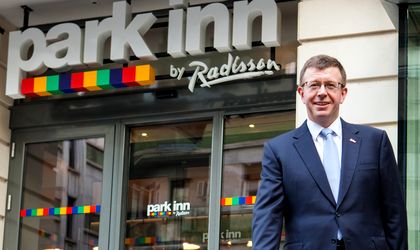 After a EUR 6 million investment to open the first Park Inn by Radisson hotel in Romania this autumn, Rezidor hotel group says it plans to further expand on the local market, both in Bucharest and other cities throughout the country. The group is focusing on the midscale market with its Park Inn brand but it doesn't rule out expansion of its upscale brand, Radisson Blu, in cities like Timisoara, Brasov or Sibiu.
Simona Bazavan
Some EUR 6 million were invested in reconverting part of the Centre Ville apart-hotel complex in Bucharest into a four-star Park Inn by Radisson hotel, which opened officially this October. The property is owned by local company Bucuresti Turism, which also owns the adjoining five-star Radisson Blu hotel, both units being operated by the Rezidor Group.
In the first weeks since opening, the hotel has posted positive results, with several nights of all rooms and apartments being fully booked, according to company representatives. "The synergies between the two properties, and having them next to each other, has been working extremely well in the first month, and we anticipate that it will also continue to work extremely well in the future," Bert Fol, general manager of the Radisson Blu and Park Inn told BR.
And the hotel group doesn't want to stop here. It's presently focusing on expansion in emerging markets, such as Eastern Europe, Africa and the Middle East, where about 90 percent of the 24 units opened this year, are located. Romania offers particular growth potential, say Rezidor representatives. Although the group has not yet announced any concrete plans, company representatives say they are discussing with several investors both in the capital and other large cities, and that it plans to open similar units in the medium and long term. "We see a fantastic opportunity to move further and grow our footprint here in Romania. We are looking into other cities as well, especially considering locations like Timisoara or Brasov, Cluj-Napoca, Sibiu, Constanta and Craiova. All have great opportunities for such a brand," said Arno Schwalie, area vice president Central Europe for the hotel group, during the opening event.
The group is focusing mainly on the mid-scale market in Romania, where it sees particular room for growth and is looking to operate hotels via management or franchise contracts. "There is not a huge difference between the rates and selling prices between four and five star hotels in Bucharest. So, from that point of view, I think the four-star market has more potential than the five-star," explained Fol. However, there are cities where he believes there is also potential for the upscale Radisson Blu brand.  "There are many secondary cities were a Park Inn by Radisson would be a fantastic brand to launch, but I also think that there are certainly cities that would uphold a Radisson Blu property, such as Timisoara, Sibiu or Brasov," he said.
Much of this focus on expansion comes from the evolution of the local hotel market over the past couple of years. "Business is growing steadily across all different segments. However, the large growth is coming from foreign tourists. Bucharest is undoubtedly becoming a destination for weekend tourists; particularly this summer, we saw very strong demand during weekends and that the city is becoming a weekend destination. We have, I would say, tourists coming from all over Europe, even from Israel. There have been a lot of additional airlines now flying into Otopeni from the UK, Ireland and other countries in Western Europe. Demand is increasing from a lot of different places," said the hotels' GM. Fol, who was appointed head of Radisson Blu last June, and has previously worked locally as GM of five-star Athenee Palace Hilton between 2003 and 2005, says the city has changed a lot over the past 10 years and it is now ready to take "a bigger slice" of the weekend-travel market. "Guests now have a lot more choice in terms of hotels and they have a lot more value for money. Also, in terms of what the city has to offer, Bucharest has changed tremendously. When I was here in 2003, I think the Old Town had one restaurant and one bar, which I remember was the Jukebox and the Amsterdam cafe. And that was it. Now look at it, it is absolutely incredible," remembered the GM.
He estimates that the leisure segment has grown to represent between 25 and 30 percent of the local hotel market while the business portion, which has also been going well over the last year, accounts for the rest. "The business segment has been growing steadily. The MICE (meetings, incentives, conferencing, exhibitions) segment is the one that is showing the largest growth in business for the group. We have had many more residential and international events taking place this year in the hotel than in previous years," explained the GM.
The MICE segment in particular is forecasted to post further growth, but Fol adds that the upward trend should maintain throughout the market. "I don't see a reason why not. It is very dependent on other factors such as airlines increasing their flights, which they are, and I think it depends on everyone involved. Success breeds success," he concluded.
Park Inn by Radisson in Bucharest features some 210 rooms and one- or two-bedroom apartments which focus on longer stays, meaning more than three months. Room rates are, on average, lower by 20 percent compared to the neighboring Radisson Blu hotel.
The Rezidor Hotel Group operates over 430 hotels in Europe, Middle East and Africa. Its main market is Western Europe where it has a network of 119 units, followed by Eastern Europe with 118. It is part of US-based Carlson Rezidor, which manages close to 1,400 hotels worldwide.