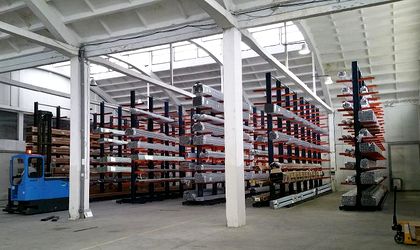 Reynaers Aluminium Romania announced the inauguration of its first storage unit in Bucharest, spreading over a 1,100 sqm area. The investment of EUR 1 million covered planning and logistics costs, stock products and recruiting qualified staff.
"In recent years the development of our company in the local market focused on the possibility of supporting existing and prospective customers with existing material in stock, for both cases one of the most important aspects of our work being able to deliver orders within the shortest time," said Daniel Popa, country manager of Reynaers Aluminium Romania, stressing that this was one of the main reasons for this warehouse.
The company is not at its first major investment in the local market, Reynaers having offices in Bucharest, Cluj, Timisoara and Iasi.
Headquartered in Duffel, Belgium, Reynaers Aluminium specializes in aluminium solutions for windows, doors, curtain walls, sliding systems, parasols and greenhouses. Founded in 1965, Reynaers has over 1,500 employees in 37 countries worldwide and exports to over 60 countries on 5 continents.
Present on the local market since 2006, Reynaers Aluminium Romania has experienced rapid growth in the market, the products being designed for residential projects, commercial, office or industrial. In 2014 the company reported locally a turnover of EUR 4 million.
The company's reference works include Henri Coanda Airport, Brasov Business Park, Promenada Mall, Cluj-Napoca Airport and Plaza Romania.
Natalia Martian