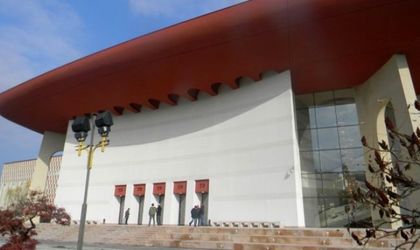 After four years of revamp works executed at the National Theatre of Bucharest (TNB), the theater's Grand Hall hosted on Saturday a version of Victor Eftimiu's magic poem "Insir'te margarite" (String, pearl!) adapted and directed by actor Dan Puric.
According to Agerpres, the reopening event was attended by many personalities, including Senate chairman Calin Popescu-Tariceanu, Culture minister Ioan Vulpescu, Justice minister Robert Cazanciuc, Youth and Sports minister Gabriela Szabo, Bucharest National Opera director Ioan Razvan Dinca, Romanian Television director Stelian Tanase, Prince Radu — the son-in-law of former King Michael I of Romania, tennis star Simona Halep — applauded by the audience, pianist Dan Grigore, actor Mircea Albulescu, former tennis player Ion Tiriac, Bucharest's District 2 Mayor Neculai Ontanu.
Before the performance, TNB director, actor Ion Caramitru, explained the importance of the works that removed the "Korean-style façade that had thrown into derision an exceptional building" and restored its initial "earthquake-proof up to magnitude 9" shape.
Culture minister Ioan Vulpescu quoted Shakespeare's Prospero of "The Tempest": "We are such stuff as dreams are made on", and added: "Tonight it's a dream coming true."
The restoration project, worth EUR 65 million, was financed by the government and by the Council of Europe Development Bank. It began in 2011, with the removal of a 1,500-tonne concrete structure that was added in 1983 and affected the resistance of the TNB building. The Grand Hall was the last indoor facility opened to the public; this summer, the outdoor Amphitheatre — the seventh scene of TNB — will be also inaugurated.
Staff