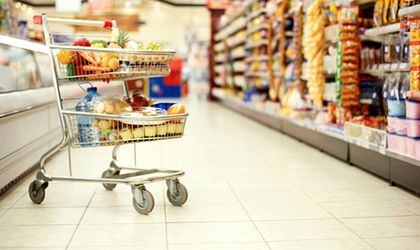 Following a dramatic cut in VAT for food products last summer, retail has seen a positive trajectory in terms of sales, registering an 8.9 percent increase in turnover in 2015 over the previous year, according to data released by the National Institute for Statistics (INS). Food products were the main driver, with a 19.1 percent yearly hike, but the positive results were also sustained by increases recorded in the retail of automotive fuel in specialized stores (5.8 percent) and in the sale of non-food products (2.8 percent).
As adjusted series, December showed a 13 percent rise over the same month of the previous year, mainly due to the increments registered by the sale of food, beverages and tobacco (26.3 percent).
"We continue to highlight that the surge in food sales occurred after the VAT cut for such items was cut by 15 percentage points, to 9 percent, in June 2015, which suggests that companies are reporting more accurately their sales (lower tax evasion). Even when discounting for this factor, retail sales would still expand at a solid 9 to 10 percent YoY pace," Silviu Pop, junior economist with ING, commented.
The hike in sales of non-food products (9.3 percent) indicate a stronger buying power, and also "means that the risks to our GDP growth forecast for 4Q15 of 4.2 ercent are tilted to the upside, provided no major negative input from agriculture," the ING representative adds.
The retail of automotive fuel in specialized stores decreased by 1.1 percent y-o-y.
Over November 2015, retail sales went up 0.6 percent, aided by the sale of non-food products (0.5 percent) and food (0.3 percent), while automotive fuel dropped 4.1 percent.
Eurostat data, presenting numbers adjusted for price changes (deflated) and seasonally adjusted, put Romania's retail trade volume at 14.3 percent above the values registered in December 2014, while the monthly increase was the same, at 0.6 percent.
According to INS data, December 2015 indicated, in gross series, a 15.5 percent gain over the same month of the previous year, while compared to November 2015 it showed an 8.6 percent rise. Once more, increases were supported by the sale of food, beverages and tobacco (up 25.3 percent y-o-y and 23.3 percent on the month). Non-food products contributed 13.3 percent to the yearly increase, while from November to December 2015 they brought in a 5.8 percent increase.
Fuel did not fare as well in December as compared to the previous year, posting a 9.5 percent drop, but still showing signs of growth year on year, with a 2.4 percent boost.
Natalia Martian