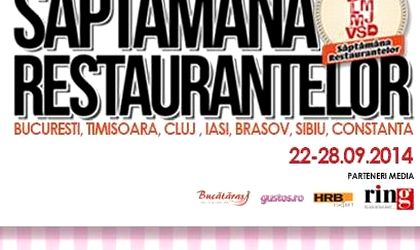 After the success of the first edition in Bucharest in May this year, Restaurant Week extends its area of influence to six other cities. Locales participating in the event will offer discounts of a minimum of 25 percent on their menus between 22 and 28 september.
The second edition takes place in over 40 restaurants in Bucharest, Cluj-Napoca, Timisoara, Brasov, Iasi, Sibiu and Constanta.
The final list of the participants in Bucharest incudes restaurants such as Osho, Chicca,Yoshi, Morgan la Dud, Goccia, Silk Sky Bar Restaurant and many others.
Here are some of the offers that you can expect. You will find the complete list of participating restaurants on the event page.
Bucharest
Chicca Fine Dining Herastrau: menu with two dishes (main course and dessert) at RON 70 from RON 120
Goccia : 30% discount on entire menu betweem 12:00 – 16:00, and 25% discount after 16:00
Restaurant Zigolini: 25% discount entire menu
Mandarin Asian Restaurant: 25% discount entire menu
YOSHI Sushi & Teppanyaki Floreasca: discount 25% entire menu
Cucina di Eleni: Discount 30% entire menu
Restaurant Marshal (Hotel Marshal): Discount 40% entire menu
Timisoara
Merlot: Business lunch between 12-16 with 30% discount
Sabres Restaurant Timisoara: 25% discount between 12:00 and 16:00;
Gloria: RON 25 two-dish menu.
Iasi
CUIB: RON 20 vegetarian menu with three dishes
Restaurant Alexandru: 25-35 percent discount on different menu items
Select Hotel (restaurant CinCin): free desserts
Brasov
Pilvax (Hungarian): 25-35 percent discount for different menu items.
Cluj-Napoca
Pizzeria di' Salvo: RON 25 two dish menu
Tonight Restaurant-Pizzerie: RON 25 two dish menu
Hotel Meridian: 25-35 percent discount for different menu items.