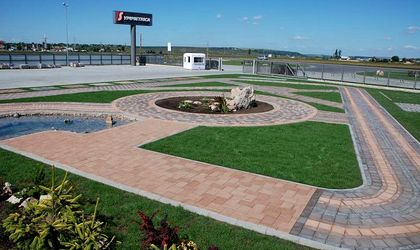 Although the market for pavers continues to be mainly fuelled by public and infrastructure projects, the beginning of the year has seen a "slight increase" of demand for pavers coming from residential and commercial projects, said today representatives of Romanian pavers and vibropressed borders manufacturer Symmetrica.
"Over the past years, the pavers and vibropressed borders market has been largely sustained by refurbishment projects of sidewalks, squares and pedestrian areas. This year however, we estimate a slight increase of demand for such projects but also a greater number of residential and commercial projects," said  Sebastian Bobu, Symmetrica's executive director.
Despite the good news coming from the residential and commercial sectors, it is hard to estimate how the market will overall evolve by yearend and in the absence of large infrastructure it could stagnate to last year's levels, he added.
Symmetrica estimates that 40 percent of this year's production will go into pedestrian projects, up from 35 percent in 2013. At the same time, a smaller number of public projects could mean a slight decrease of demand for border and drains. The full half of the glass is that there is also a "slight increase" of demand coming from the industrial sector as companies are investing increasingly more in refurbishing space outside production units or warehouses, added Symmetrica's head.
The manufacturer owns five factories and has a production capacity of 11,500 meters of product per day.
Simona Bazavan