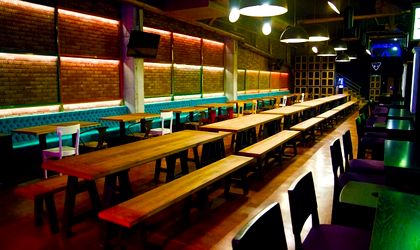 The United Mug Emptying Front positions itself as a place dedicated to groups of friends, large parties and good will among men, everything spiced up with a live "fanfare" that entertains beer lovers nightly.
[restrict]
I agree with the description of the beer hall, with one amendment: as a regular visitor to the place, the good will is mostly among women, who kindly regulate their male friends while dancing and enjoying the live music.
The first surprise here is the spaciousness of place, which has up to 800 seats on two floors. Then, a welcome shock: everyone near you will be smoking, but you can actually breathe, thanks to investment in air purifiers. And the icing on the cake: the brass-led band. Probably the best music for drinking beer to, the Republic "fanfare" brings the crowd to life. The brass-led band is followed onto the stage by another live act. Most of the groups are not well known, but with so many TV shows looking for shining stars, who knows what acts could be propelled into the international charts right from the Republic basement scene?
Premium quality beer connoisseurs can find three exclusives: Jacobsen Brown Ale (5.8 percent alcohol, prices from RON 15 to RON 125), Carl's Special (4.4 percent, RON 9.5-79) and Samuel Adams (4.8 percent, RON 15-125). For eccentrics who need flavors and are used to drinking in Belgium, I strongly recommend the seasonal guest beer, Delirium Tremens (8.5 percent, RON 16-135). It is commonly thought that sufferers hallucinate, seeing pink elephants, probably those on the beer's label, but the most common animals seen in delirium tremens hallucinations are cats, dogs, and snakes. For me was just a good laugh with friends remembering our first experiences of DT.
Of course, in the United Republic of Beer one can also find upscale eateries: a visit to The Wurst Republic or the SchnitzelRepublic can round the night off nicely – or prepare your stomach for the beer onslaught! Salads, soups and desserts are also available.
The only drawback of this place is the lack of seats at weekends, if you haven't made a reservation.
Address: 14 Selari Street, 0748 881 086.
[/restrict]