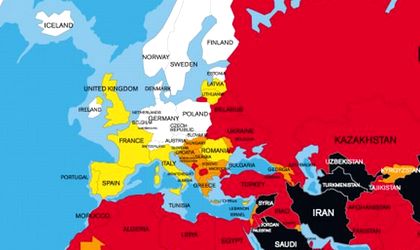 Reporters Without Borders has published  its 2014 World Press Freedom Index, which measures the freedom of information and journalists in 180 countries around the world.
Finland tops the index for the fourth year running, followed by Netherlands and Norway. The United States fell 13 places to 46th for various reasons, right below Romania which currently occupies the 45th position out of 180.
"Rich in diversity, the United States and Brazil should have given freedom of information a supreme position both in their laws and their social values. Unfortunately the reality falls far short of this. (…) The heritage of the 1787 constitution was shaken to its foundations during George W. Bush's two terms as president by the way journalists were harassed and even imprisoned for refusing to reveal their sources or surrender their files to federal judicial officials. There has been little improvement in practice under Barack Obama. Rather than pursuing journalists, the emphasis has been on going after their sources, but often using the journalist to identify them. No fewer that eight individuals have been charged under the Espionage Act since Obama became president, compared with three during Bush's two terms", according to Reporters Without Borders.
Bulgaria is the lowest ranked European country on the list, reaching the 100th position.
"Although closely challenged by Greece, Bulgaria retains the status of lowest ranked European Union country after a trying year marked by five months of major protests and political tension.Reporters were repeatedly the victims of police violence during these demonstrations calling for the government's resignation", rsf.org writes.
The organization describes countries at the bottom of the list — Turkmenistan, North Korea, and Eritrea — as "news and information black holes and living hells for the journalists who inhabit them."