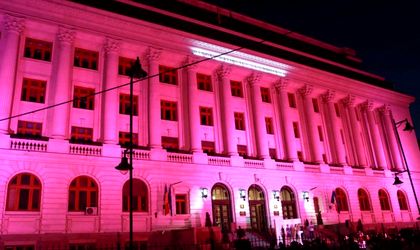 As part of its 11-year awareness and prevention campaign focused on breast cancer amongst Romanian women, Renasterea Foundation announced last week it would expand its activity into general health, and is planning to submit a bill that will grant women a day off work to have standard medical tests.
Mihaela Geoana, the president of the foundation, made the announcement at its annual event on October 1, when a historical building in Romania, like all over the world, was illuminated in pink. This year, Olympic medal-winning gymnast Sandra Izbasa was invited to turn on the pink light at the impressive neo-classic building of the National Bank. The event was followed by a fund-raising reception hosted by BNR, represented by vice-governor Cristian Popa, with more than 160 guests attending. Five other cities around Romania turned on the pink light this year: Bacau, Brasov, Constanta, Targu-Mures, Petrosani.
Over the past 11 years, more than 200,000 women have benefited from Renasterea Foundation's free health services. A mobile unit for breast and uterine cancer tests equipped with a digital mammograph and gynecologist cabinet was inaugurated in 2008. So far 16,400 women from 36 rural communities and small towns have made use of its services, which are free of charge.
The Medical Excellency Center Renasterea was launched in April 2011, through EUR 2 million of financing granted by the SEE program.
Anca Ionita