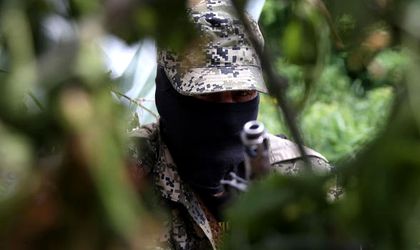 Thousands of Ukranians voted on Sunday in the referendum organised by pro-Russian separatists in Donetk and Lugansk. The initiative was heavily contested by authorities in Kiev and other western countries. Over seven million ukrainians were asked to vote to decide the fate of eastern Ukraine in Donetk and Lugansk, according to AP.
At Kiev, the Foreign Affairs Minister announced that the referendums that might lead to the two regions separating from Ukraine are a "farse" financed by Russia.
"The referendum is juridically invalid and it will bear no effects on Ukraine's teritorial intgrity", according to the Ukrainian Foreign Ministry.
The results for the referendum will start to roll out on Monday, according to Roman Liaghin, head of the Election Board.
The referendum in Donetsk and Luhansk regions, which Russian president Vladimir Putin advised local leaders to postpone, comes as widespread anger mounts over Ukrainian military moves against armed separatists.
In most regions the referendum was conducted peacefully. In Mariupol, home to 500.000 people, there were four election booths set up. Huge queues of people lined up, almost all of whom said they were voting yes to separatism. In Donetsk, there were also queues to vote, even though many people were unsure exactly of the meaning of the ballot question, which asked: "Do you support the act of state self-rule of the Donetsk People's Republic?"
Russian diplomat threatens to fly a bomber into Romania. MAE demands explanation
Shooting in Krasnoarmeisk
There was at least one incidence of violence leading to deaths over the course of Sunday, when armed men identified as Ukrainian national guard opened fire Sunday on a crowd outside a town hall in eastern Ukraine, and an official for the region's insurgents said there were fatalities, writes Huffington Post.
The bloodshed in the town of Krasnoarmeisk occurred hours after dozens of armed men shut down voting in a referendum on sovereignty for the region. One of them identified the group as being national guardsmen.
An Associated Press photographer who witnessed the shooting said two people were seen lying unmoving on the ground and insurgent leader Denis Pushilin was quoted by the ITAR-Tass news agency as saying there were an unspecified number of deaths.
Witnesses to the shooting posted a number of videos on YouTube. One of the videos shows several armed men holding AK-47s trying to control the crowd, eventually failing and shooting down at least one person.  The video, shot by someone at the scene of the confrontation, has been authenticated based on accounts by AP journalists at the site and was consistent with AP's own reporting on what happened
De facto leaders of the movement that resulted in a referendum are themselves unsure what exactly the vote is for. Some say it is a vote to grant the regions more autonomy, others that it will give Eastern Ukraine the independence to form its own states. It is not clear whether Russia is going to continue to annex parts of Ukraine, but many of those at polling stations believed that is what they were voting for, writes The Guardian.