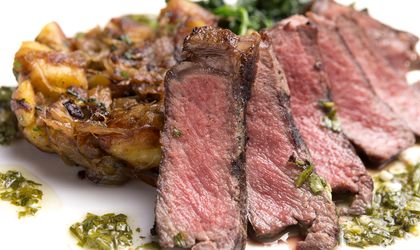 Red Angus Steakhouse prepares The Habitat for Humanity Special, a dish created by Chef Dale Meek as part of a cause-related marketing campaign for which the restaurant gives 50 percent to Habitat for Humanity Romania. The dish contains Uruguay beef steak, Lyon potatoes, sweet onion, spinach and chimichurri sauce. The product price is RON 95.
The money obtained from orders of the Habitat for Humanity Special will be used for Big Build 2014 project that is going to create homes for 48 families situated in Caracal, Olt County.
Habitat for Humanity builds modestly-sized houses which are large enough for the occupying family's needs, but small enough to keep construction and maintenance costs to a minimum, with two bedrooms, a kitchen, living room and bathroom, and host mostly Romanian families with low incomes. Through volunteer labor and donations of money and materials, Habitat builds and rehabilitates these simple, decent houses. The families accepted by the Habitat program have to participate actively in the building of their own home and the homes of other beneficiary families in their community. Once the building is done, the partner families pay off the mortgage over 20 years at no interest, and invest up to 1,000 hours of sweat equity in other Habitat homes.
The sums collected go into the Fund for Humanity, a rotating scheme that can help finance other construction sites and many more families. This is how the organization, which first appeared in 1976, operates and has managed to provide more than 500,000 families worldwide with homes.
The organization has existed in Romania since 1996, and to date more than 16,000 persons have been helped through Habitat for Humanity projects. The program has included the construction and rehabilitation of homes and apartment blocks, energy-efficient housing, affordable housing for vulnerable groups and a disaster response program.
Oana Vasiliu